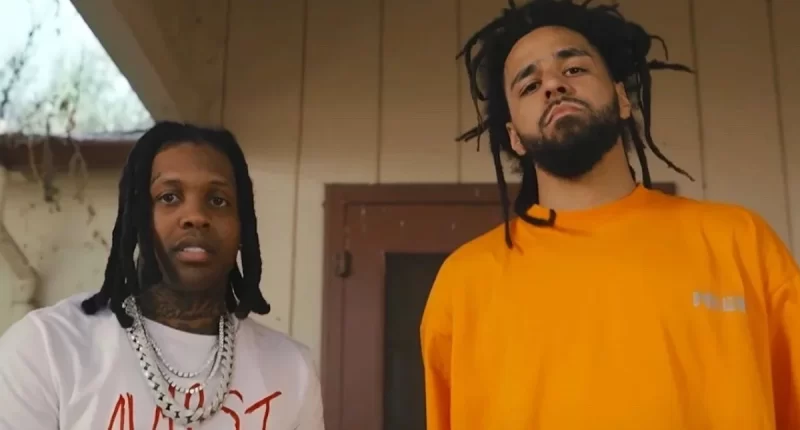 J. Cole's management is refuting claims that he charged Chicago rapper Lil Durk a substantial fee to appear on his song "All My Life."
Earlier this week, RapHouse claimed that the rapper charged Lil Durk $2000 a word for the verse, raising eyebrows at J. Cole's way of operating. "Lil Durk reportedly paid J. Cole $978K for his 'All My Life' verse. Counting 489 words Cole spat Cole reportedly charges $2K per word for the feature," the post claimed.
However, on Tuesday, both Lil Durk and J. Cole's teams denied that the Dreamville rapper charged Durk. J. Cole's manager, Ibrahim Hamad, who is also Dreamville Records co-founder, said the claim is "cap" as he responded to the original post with the claim.
Lil Durk's DJ also reacted to the report, writing, "False news we ain't never paid for a feature… Ever!"
It seems that the post was based on a line from Cole's verse which said, "A verse from me is like eleven birds/ I did the math it's like $2,000 every word."
The song was released on May 12 and is regarded as Durk's biggest hit in recent times. The track, which features Durk in his intense drill style, is complimented by Cole's verse and a choir of children singing.
After the song's release, Durk told Complex that he felt that Cole's verse was superior on the track.
"He smoked my ass on that one, for one, that barely happens. But shout out to J. Cole, shout out to [Dr.] Luke, we made it happen."
? https://t.co/sU3TFG6mJs

— Ibrahim H. (@KingOfQueenz) June 5, 2023
False news we ain't never paid for a feature… Ever! https://t.co/YJpWkAYDKq

— Mufasa (@dj_bandz) June 5, 2023
The song peaked at No. 2 on the Billboard Hot 100 after releasing and debuted at No. 4 this week for the third week in a row. The song featured on Durk's latest album, Almost Healed, which was released on May 26 and sold 125,000 album-equivalent units in its first week.
The album's first-week sales amount to a whopping 120,000 album-equivalent units, making it one of the biggest debuts so far this year in rap. Despite it's strong numbers, the project debut at No. 3 on the Billboard 200 album chart.