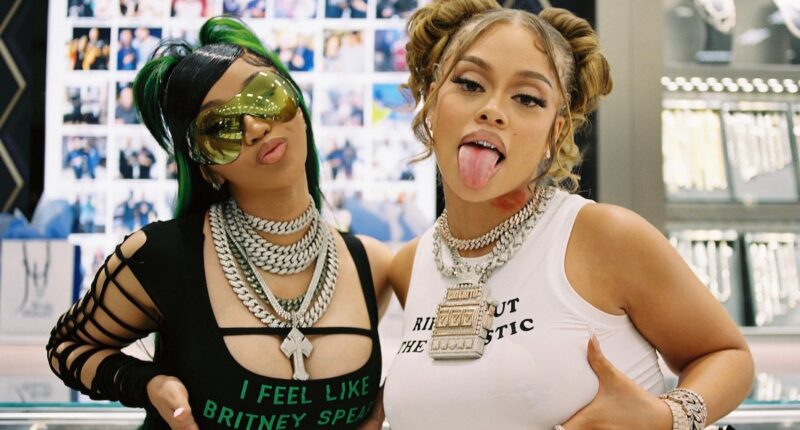 Latto is heaping praises on Cardi B after a successful remix for "Put It On Da Floor" dropped at midnight along with the video.
The two rappers hopped on Instagram Live as they shared compliments about each other after working together on the song and video. This is Cardi's first collaboration with Latto, and it's quite controversial as many fans feel that the song was a diss track for Nicki Minaj, whom she asks to bring it to the floor and not have smoke and imaginary beef with her.
On Livestream, Cardi B was sweet and generous as she encouraged her large fan base to run up the streams for the song across the various platforms. Latto also shared compliments for Cardi B and her impression of the Invasion Of Privacy rapper, whom she met in person to film the song.
"Cardi B you the realest b*tch ever. You always been from the jump. Since I met you, You've been inspiring me, bashing bars. In real life, the face is sitting, the ass is sitting, the stomach is snatched, please. She that girl," she said on the video.
Latto added, "Put some respect on Cardi name. After y'all hear this verse, y'all gon have to put some respect on my bitch name. One of them ones."
The video for the song features both Cardi B and her husband, Offset, while Latto and her friends are also seen in separate scenes. There are solo scenes with just Latto and Cardi B as the former fawns over the Bronx rapper's body.
There were mixed reviews from fans of the song, with some sharing their initial thoughts. "The song ain't as good as I expected," one fan commented.
Others were not feeling Latto's compliments for Cardi B, particularly as she had stated that she idolized Nicki Minaj. However, the women had a falling out over her "Big Energy" track clinching a rap award over Minaj's "Super Freaky Girl" last year, leading to a public cuss out between them.
"This the same girl who got a 60 inch photo framed of Nicki Minaj putting her in a tweet? When she was running around in the hotel like a 5 year old and still aint get chose? Tuh," a fan said.
"This the Fabricated moment Latto was Begging NICKI For. I'm So Glad the Queen Seen through the B.S & Sent Latto bout her way, Now look what we have, a Rebound Track," another said.
On YouTube, the song rapidly racked up views, with almost one million views within 24 hours of being released.
"Put It On Da Floor" was originally released in April. Minutes after its release, the song debuted at #107 on the U.S. iTunes chart, according to Chart Data.