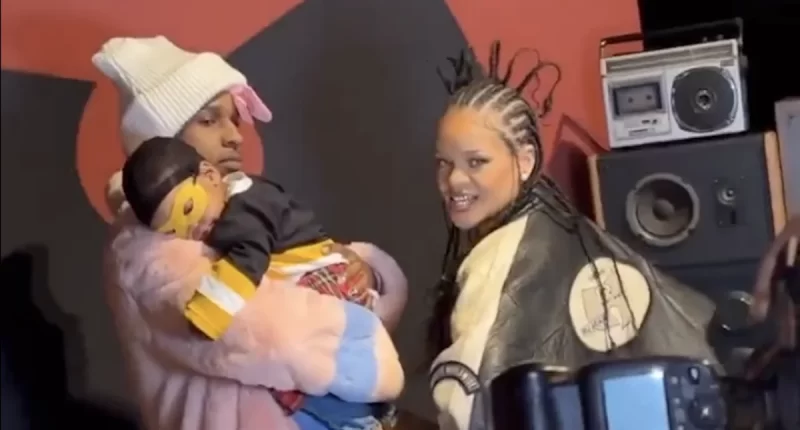 RZA Mayers seemed to enjoy his lavish birthday party, although sleep got the best of him towards the end when he fell asleep in A$AP Rocky's arm.
The one-year-old was treated to a money-themed party and lots of money-themed cake for his birthday party on May 14, a day after his actual birthday. Several photos online shared by Rihanna's stylist Nini Nguyen showed her daughters posing with props set up to celebrate the first year of life for the happy little baby.
Nguyen's photos revealed the party as a yellow and black decorated event with mini Mercedes Benz trucks loaded up with CDs and a loudspeaker and gold chained balloons connecting bunches of balloons leading to the party.
"Life as a shorty shouldn't be so rough," a backdrop behind the cake stands read. The cake was a sight to behold as the young one appeared to have a four-story cake that was cross themed with bees and featured ice cream cones and an ice truck, maybe things the little one loves so far.
RZA's cake that he blew out was also a different cake that featured stacks of American money in $100 denominations. And although several posts and videos show him sleepy, he was alert for the obligatory cake part of the celebrations.
Other guests also shared a video of mom and dad posing for photos while baby RZA clearly pooped from the festivities and took a nap in his dad's arm. His outfit included stocking on his head, a yellow mask, and a black and yellow jacket paired with blue jeans and what looked like baby Timberlands.
Nguyen also gives a good look at Rihanna's fit, which included braids that shot up into the air and black cargo pants, and a cream and black leather jacket over a blue and black cropped that that was transparent to show her busty chest.
Her best friend Melissa Forde also showed off Rihanna's growing stomach, which was decorated with shiny sequins.
"This is a big blessing here," Forde says.
Rihanna 's Belly ??? pic.twitter.com/Y407ElYEDp

— ? ?? (@riihsmybih) May 14, 2023
Rocky was also making a fashion statement with a fluffy oversized pink and blue coat and baggy checkered pants.
?: Rihanna and A$AP Rocky at RZA's birthday party. pic.twitter.com/9cL12fA35O

— ??????? (@gabgonebad) May 14, 2023
Rihanna, Rocky and RZA at his 1st birthday ? pic.twitter.com/916wlvoZfY

— ??????? (@gabgonebad) May 14, 2023
Rihanna's son RZA at his first birthday party yesterday ? pic.twitter.com/ZsZKcmgHEF

— DAMN RIHANNA (@DamnRihanna) May 14, 2023
Rihanna has not revealed the gender of her second baby, but she has been quite comfortable in her skin, with her belly prominently showing out.