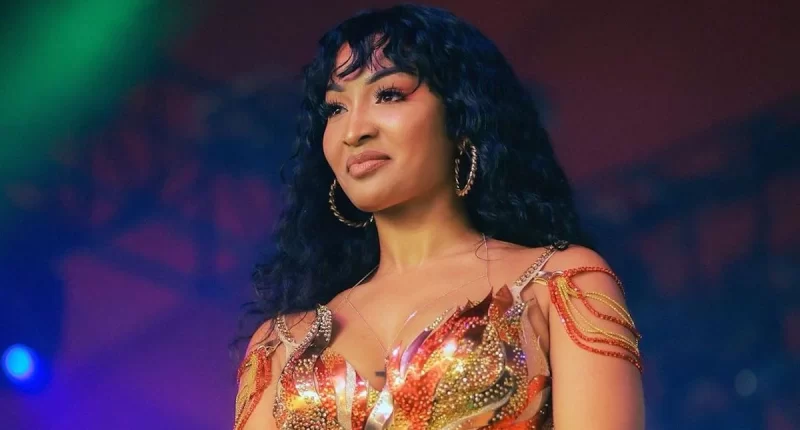 Shenseea was surprised to learn that the American music market is still stuck on old school dancehall, so she tweaked her music to attract listeners.
For the most part of the international music market, 90s and early 2000s dancehall still reign supreme when it comes to Jamaican music listeners. Although some of the new generation of artists, like Popcaan, Alkaline, Masicka, and others, have carved out a segment of the international market for themselves, listens still gravitate to the nostalgic sound of dancehall from that era.
Shenseea has taken a new approach to connect with listeners, particularly in the United States, where clubs DJs, and parties still have 90s dancehall in heavy rotation. She blends a lot of her new music with some of the old school sounds in an effort to get listeners current with the new sound coming out of Jamaica.
She breaks it down in her new interview on The Shop UNINTERRUPTED podcast with Maverick Carter, J.B. Smoove, legendary actor Wood Harris, and actress Dominique Fishback.
"When I came to America, it's like when I go to the clubs, people are still enjoying the old school Dancehall," Shenseea said. "The new dancehall has not broken ground here."
Shenseea also admitted that her good looks also helped her marketability in the entertainment industry in the US after moving to the States full time around 2019 after signing a label deal with Interscope Records and later hiring Wassim 'SAL' Slaiby as her manager in 2021.
"There's a lot of [Jamaican] artists, who came up that you don't know about," she continues. "I'm just lucky to be one of them that has … you know, an image and face that I [can] market myself in a certain type of way where other people get to know about me."
"I have been doing new school Dancehall but ever since I came here in America, I said, 'Wait, how are you guys still listening to these songs and be like "oh, this is the jam"?'" she explains. "Like we hardly even listen to that in Jamaica. How are you guys still stuck on this type of music? Don't get me wrong, vintage [music is] very legendary."
She added, "So I feel like, I take it up on myself to be like, 'Nah, I gotta help my culture [to] expand and help you guys catch on to what's happening down there'. So I try to mix both."
Proving she is staying true to her strategy, Shenseea released her new song last Friday, "Sold Out," which was released on a classic dancehall beat, giving you that familiar 90s dancehall sound. The single was produced by her rumored boyfriend, London On Da Track, with the help of Phil The Keys and Dready.
The Jamaican singer also stayed true to authentic dancehall culture in the AKA. Ruppi-directed music video where she dons a mesh marina with traditional Rastafarian colors, black, green, red, and yellow.
Shenseea is currently readying her forthcoming album, due sometime this year. She said the project will feature some new sounds, so fans are looking forward to that drop.