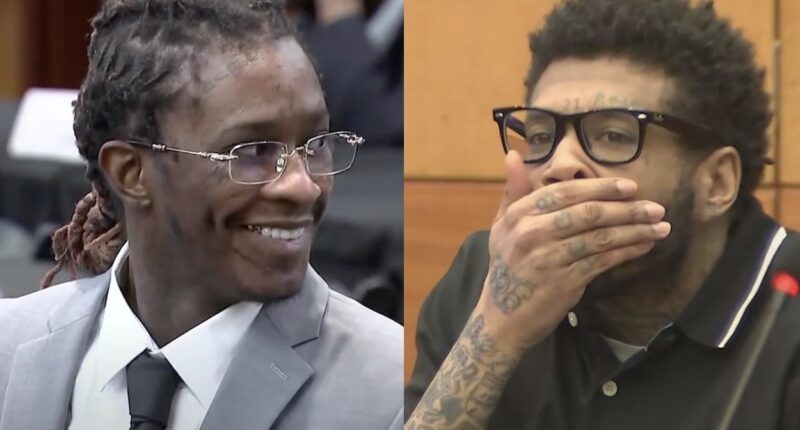 The YSL RICO trial involving popular Atlanta rapper Young Thug has been reduced to seven (7) defendants, down from an original 28 people charged in May 2022.
On Tuesday, another defendant in the trial had his indictment severed following a murder conviction last week. According to WSBTV, prosecutors in the YSL RICO trial have dropped gang and racketeering charges against Cordarius Dorsey following his second murder conviction in a separate case.
Dorsey's appearances have gone viral in court for his weird body movements, but the judge in the murder trial did not determine him mentally unfit for the murder trial. It should also be noted that his murder conviction last week marks the second time in less than a year that Dorsey was convicted of murder. Reporters pointed out that the murders are separate and unrelated incidents from each other, as well as the YSL trial, which led to his charges being dropped.
In the latest murder conviction, Dorsey is accused of shooting and killing Xavier Turner outside a College Park Atlanta barbershop in 2020. Convincing evidence used in court showed him being caught on video committing the crime.
This conviction adds to a previous one where he was sentenced to live in prison without parole for the robbery and killing of Sulaiman Jalloh in 2019. Chief prosecutor Adriane Love said a nolle prosequi will be entered for the two counts of RICO charges he is facing in the YSL case.
In the meantime, Dorsey, who goes by the name YSL Polo, was charged with conspiracy to violate the Racketeer Influenced and Corrupt Organizations (RICO) Act and conspiracy to commit a crime. His behavior in court sparked concern that he might be insane following his jerking and stretching motions in court, leading to Young Thug's lawyer, Brian Steel, filing a motion to remove him from the trial.
YSL Polo's attorney, Chadha Jimenez, also questioned why it took until now to severe him from the YSL Rico case. "I'm a little disappointed that it took the state nine months to realize this is a major waste of taxpayer dollars," Jimenez said. "Mr. Dorsey should have never been part of this. He was already serving a life sentence without parole."
However, Judge Ural Glanville had previously dismissed his behavior, noting that he was found competent to stand trial, and no question had been raised about his mental state during the proceedings.
As for Young Thug, the rapper appears in good spirits as he attended court on Tuesday while jury selection continued.