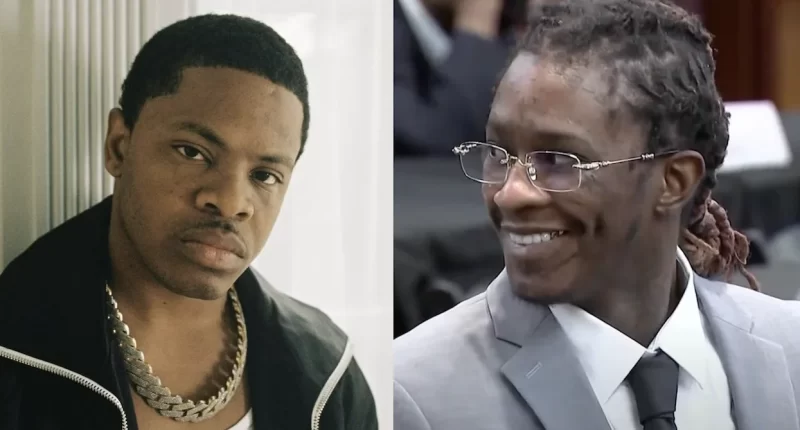 Young Thug's brother, Unfoonk, whose real name is Quantavious Grier, has been sentenced to nine (9) years and six (6) months in prison for violating the condition of his probation stemming from his plea deal in the YSL RICO case.
On Monday, Judge Ural Glanville had harsh words for Grier, who was caught with an illegal firearm and ammunition last month.
The judge recapped that part of Grier's condition of release was that he was not to possess a gun, but the District Attorney's office says Grier signed an acknowledgment of having a firearm (stage 3), prohibition of possessing firearms and ammunition (stage 4) and having a Glock 9 in the car he was driving (stage 6&7).
"I find that based upon the evidence presented in this case, the state has proven by preponderance to the evidence that you have violated your probation in the three means as set forth in paragraph 4 of the petition," the judge concluded.
The judge also rejected submissions by Grier's lawyer to consider revocations of two years off his sentence.
"The issue that I find aggravating in this particular circumstance are several. You got arrested with a gun within six (6) months of you being placed on probation and I agree with the state that you are not a candidate for probation. All you had to do was complete your probation and do what you are supposed to do. Instead, you were riding around in the car with a gun in violation of your probation and what this court explicitly had a conversation with you about," the judge said as he pointed out that he is reversing the probation and the balance of nine years and six months will apply for Grier.
Grier was arrested on May 4 and charged with possession of a firearm by a convicted felon, a person associated with a criminal street gang, and several traffic infractions.
Police say Grier was arrested after a vehicle he was driving appeared to suggest a drug deal was taking place. On approaching the black Mercedes G-Wagon for a possible window tint violation, officers searched the vehicle after reportedly smelling marijuana.
"I also noticed a handgun in plain view located in the driver-side door panel. Mr Grier advised that the gun was clean, which prompted me to believe he had knowledge of the firearm being there," the police report said.
It also seems that the police were keeping the gas station where Grier was arrested under surveillance.
"The gas station where Grier was arrested is controlled and used by YSL for the commission of criminal gang activity," the arresting officer said in the report.
Grier is one of eight defendants who took plea deals in the YSL RICO trial last year.
Unfoonk was charged and later pleaded guilty to one count of violating the RICO Act and guilty to an additional charge of one count of theft by receiving stolen property.
The judge had sentenced him to 12 years in prison with two years commuted to time served and the remaining 10 years suspended to probation.
Grier is the biological brother of Young Thug, who is the District Attorney's primary target in the Rico case.