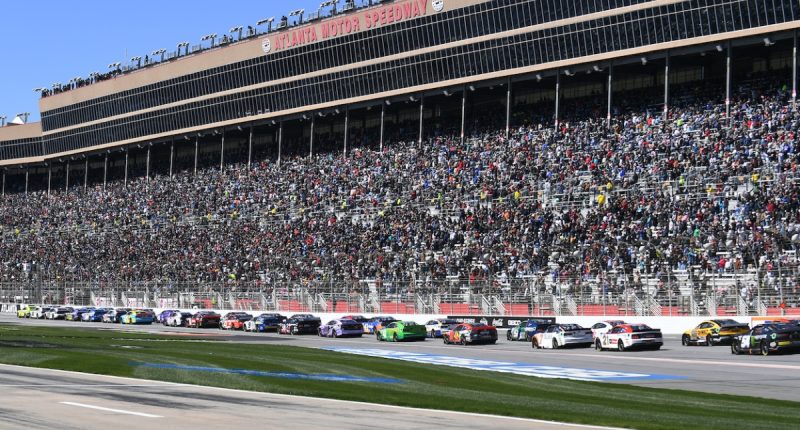 Each week we are tracking the number of commercials shown during each NASCAR Cup Series race broadcast, breaking it down by total number of commercial breaks, including side-by-sides, total commercials, total amount of time spent in commercial break, and total laps missed by the television viewing audience. 
This weekend's race at Atlanta Motor Speedway provided the perfect example of why viewers are so opposed to full-screen commercials airing during green-flag action because the broadcast was in the middle of a commercial break late in the race when a crash happened at the front of the pack and took out multiple cars, including Kyle Larson.
The Ambetter Health 400 at Atlanta Motor Speedway begins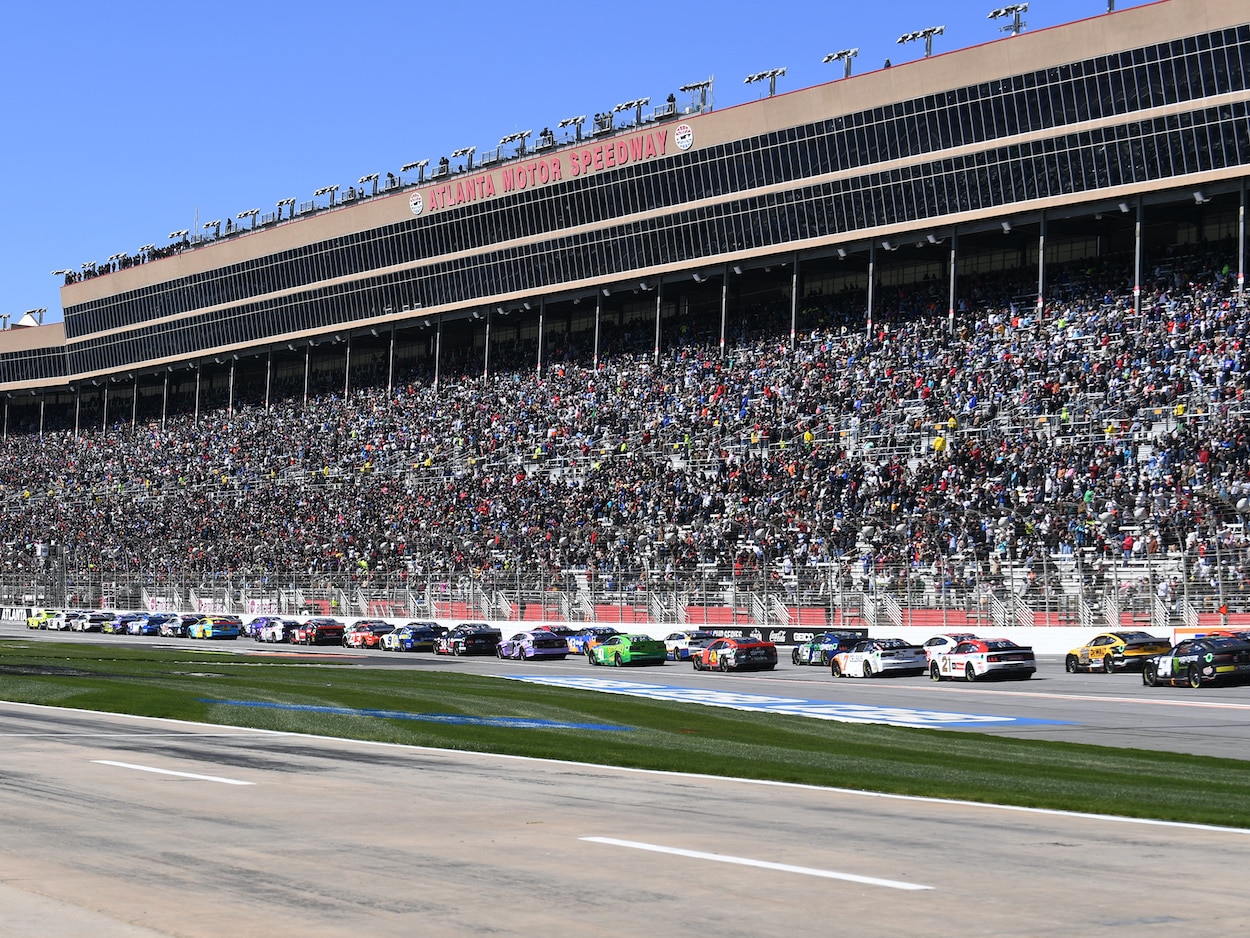 The green flag for the Ambetter Health 400 in Atlanta waved at 3:21 ET.
The first commercial break came on Lap 10 and earlier than what fans have seen in the past due to a Bubba Wallace spin, which brought out the caution. That break featured seven commercials and lasted 2:15. 
The first green-flag commercial break came on Lap 25, including three commercials that ran for 2:15. Viewers at home missed four laps of racing.
The rest of the stage remained caution-free. Fox aired four more breaks, including one side-by-side and a couple during the Stage 1 break. All totaled fans at home endured six breaks with 37 commercials that lasted for 15 minutes and missed 11 laps of green-flag racing. 
NASCAR fans missed more than two dozen laps in Stage 2 
With no cautions in Stage 2 this week at Atlanta, Fox aired the most green-flag ads of the race during the segment. The first came on Lap 78, featured six commercials, running for 2:35. Fans missed seven laps of racing.
The next set of ads came 16 laps later and included four commercials that ran for 2:30. Fans missed an additional seven laps. Rinse and repeat.
At the conclusion of the second stage, fans had seen seven commercial breaks (one side-by-side) with 38 commercials that ran for 18:35. The viewing audience at home missed 27 laps of green-flag racing.
Fans miss leaders crash during a commercial break in final stage
Commercials are a part of sports. All fans accept it because it's part of the business model. However, you don't miss live action and critical moments during a commercial break in most sports. Unfortunately, that is true of NASCAR, and it happened on Sunday. 
With 53 laps remaining, Fox went to a green-flag commercial break, aired two commercials, and started running another when the broadcast suddenly returned to the track and fans heard Clint Bower impromptu telling Tony Stewart that his No. 10 SHR car of Aric Almirola was involved in it.
"Crash. Kyle Larson," Mike Joy said. "Caution on Lap 209."
Fox then showed a replay, but fans at home had missed it live. Interestingly, those were the only two laps of green-flag action fans missed in the final stage, but they were big ones. 
In that final stage, Fox aired six commercial breaks with two side-by-sides, with 37 commercials for 14:45 of air time. 
Final numbers 
| | |
| --- | --- |
| Total Time of Race (Green to Checkered) | 2 Hours 53 Minutes |
| Total Commercial Breaks (Side-By-Sides) | 19 (4) |
| Total Commercials | 112 |
| Total Time of Commercials | 48:20 (27.94% of race broadcast) |
| Total Laps Missed by Viewing Audience | 40 green-flag laps |
| Total Pharmaceutical Commercials | 9 |
For the latest breaking news and information about NASCAR's three national series, check out @kdsportswriter on Twitter.