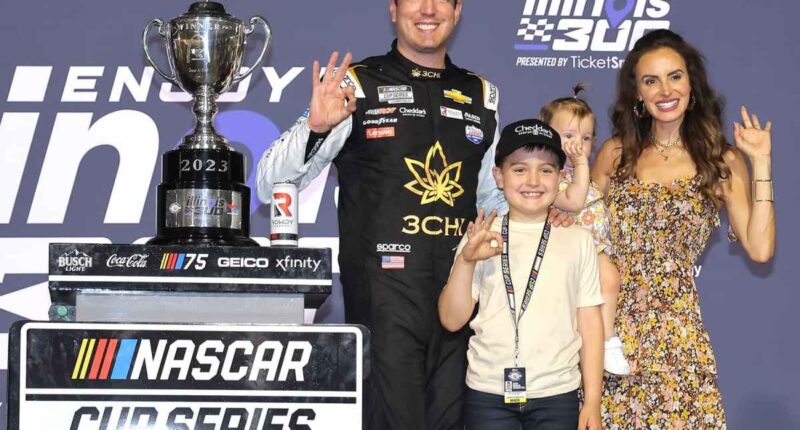 Three major Cup Series teams, three major NASCAR series, and three championships thus far. That sums up the career of Kyle Busch, the winningest driver in NASCAR history.
Busch will enter the NASCAR Hall of Fame as a first-ballot inductee. Still, he was only 37 years old when the 2023 season started, which suggests he has a lot of winning left to do before he retires.
The Las Vegas native has created many memories, but we've narrowed his Cup Series career down to five key moments.
The teen prodigy cut his Cup Series teeth with Hendrick Motorsports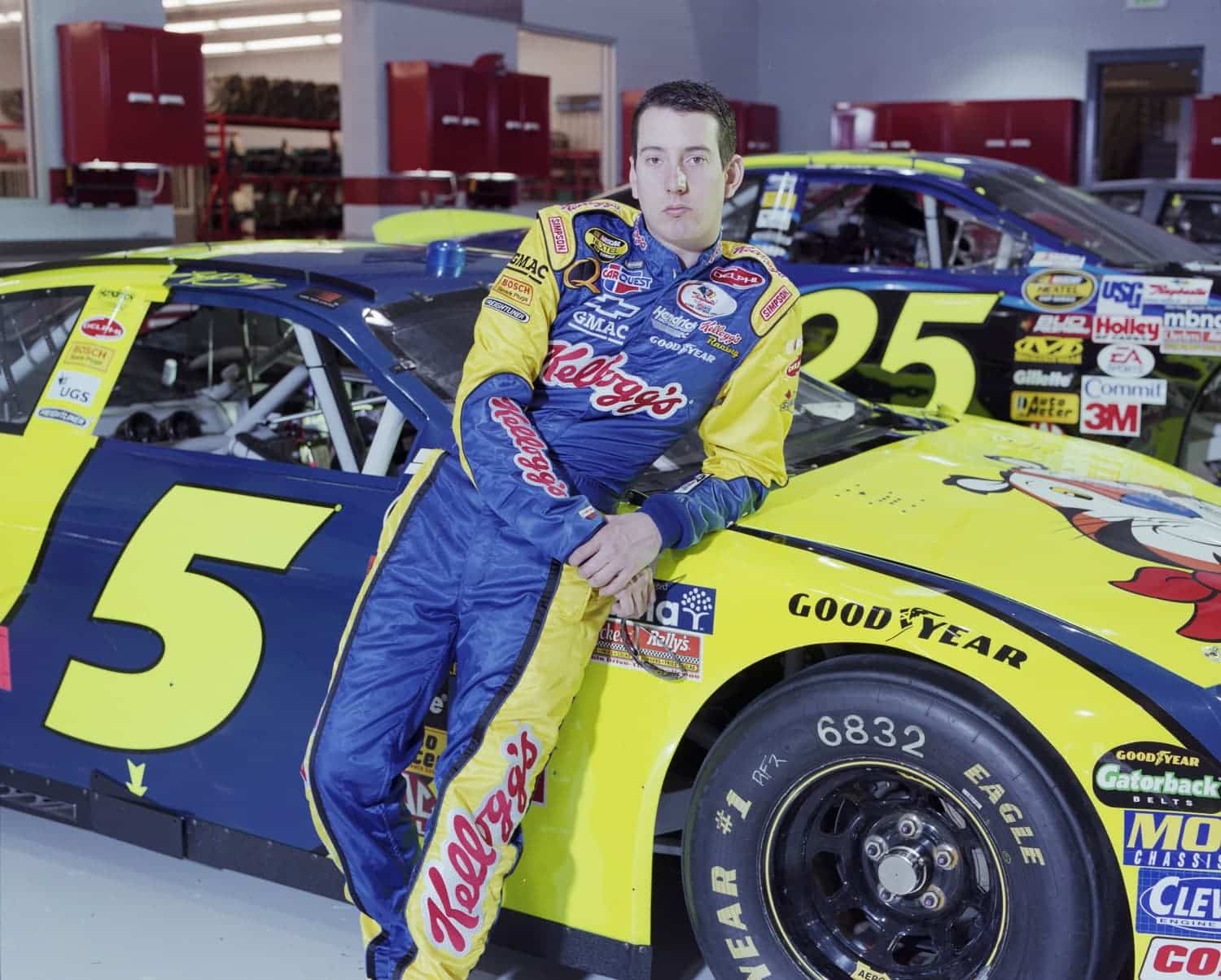 Jack Roush gave Kyle Busch his first shot at a NASCAR series when he put him in the No. 99 Ford in the 2001 Craftsman Truck Series at the age of 16. Before he could finish out the season, however, NASCAR began enforcing an age restriction that took him out of action until he turned 18.
In 2003, Hendrick Motorsports brought him aboard as a developmental driver. A year later, he was winning five Xfinity Series races and finishing second in points. He also got his first taste of the Cup Series that year, setting him up for a full-time ride in 2005 in place of Terry Labonte.
Busch scored his first Cup Series win in 2005 at Fontana over a top five that included Carl Edwards and Tony Stewart. He would finish 20th, 10th, and fifth in points in his three full-time seasons before moving on to Joe Gibbs Racing in 2008.
Kyle Busch got off to a sensational start at JGR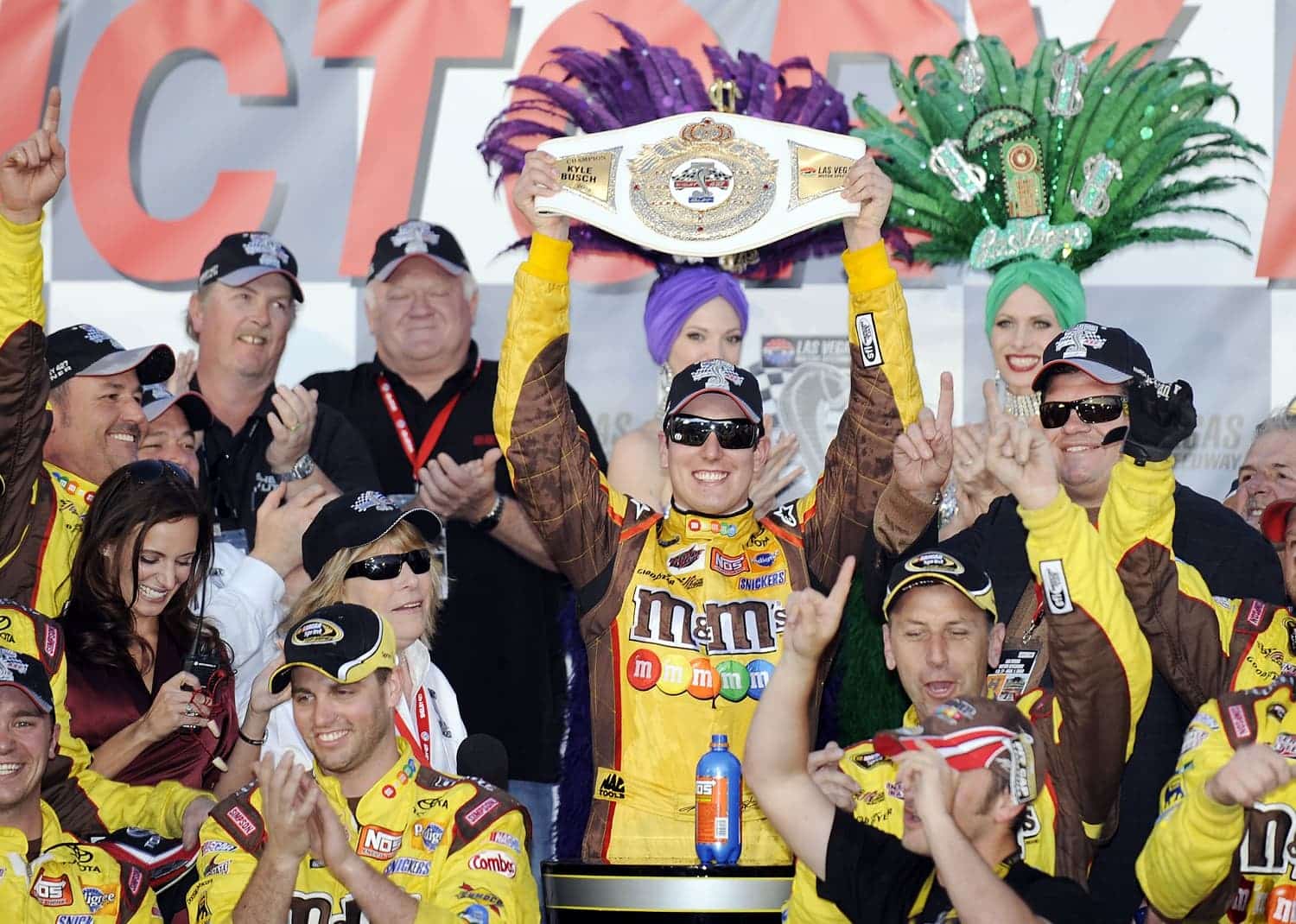 Kyle Busch replaced J.J. Yeley in the No. 18 Toyota at JGR and immediately produced results by winning eight times in 2008, including a sweep of the road courses and mid-season wins on the superspeedways at Talladega and Daytona. He led in points for most of the season, but a disastrous start to the playoffs ended any hopes for his first championship.
The 2009 season brought Busch his first hometown win in Las Vegas and also seven victories in trucks and nine in an Xfinity Series campaign that ended with his first NASCAR championship.
By the end of 2009, while he was still just 24 years old, Busch had won 16 times in the Cup Series, 30 in the Xfinity Series, and another 16 in the Craftsman Truck Series. By the end of the 2011 season, he had cracked the century mark in trips to Victory Lane.
Kyle Busch won his first Cup Series championship in 2015
Kyle Busch began the 2023 season with a combined 1,169 starts across the three national NASCAR series, made possible with multiple two- and three-race weekends throughout his career. It allowed him to make NASCAR history in 2010 by scoring a three-race sweep in one weekend at Bristol.
However, pulling double and triple duty nearly cost him big in 2015 as his season got off to a scary start with an Xfinity Series crash at Daytona. It left him with a compound fracture of the right lower leg and a broken left foot that sidelined Busch for 11 Cup Series races.
Five races into his return and six weeks after the birth of son Brexton, Busch won at Sonoma to punch his ticket into the playoffs. After 17th place at the Daytona holiday race the following week, he rattled off consecutive wins at Kentucky, Loudon, and Indianapolis.
Busch finished in the top five in five of the last six playoff races, culminating with a victory at Homestead-Miami that gave him (and Toyota) Cup Series crown No. 1.
Kyle Busch became the winningest NASCAR driver ever
By crossing the finish line first at Atlanta Motor Speedway in February 2019 for victory No. 52, Kyle Busch eclipsed Ron Hornaday Jr. as the winningest driver in the history of the truck series.
On March 17, 2019, he led the final 26 laps at Auto Club Speedway in Fontana, California, and beat Joey Logano across the finish line for the 200th victory of his career across the three national NASCAR series, matching the total of Richard Petty.
Six days later, he triumphed in the truck race at Martinsville to take sole possession of the record with his 201st win.
Bush raced 48 times in that historic season, winning 14 times – including all five appearances in the truck series. The biggest victory of all came in the Cup Series Championship 4 at Homestead-Miami to secure his second title in the top series.
Kyle Busch left JGR for Richard Childress Racing
Right from the start of his time at Joe Gibbs Racing, Kyle Busch was Mars, Inc., in NASCAR. The M&Ms paint scheme made the No. 18 Toyota one of the most recognizable cars in NASCAR history, and the relationship was lucrative for the driver and the team.
Late in the 2021 season, however, the candymaker informed JGR it was leaving NASCAR after the 2022 season. Once word leaked, Busch's future became the subject of nearly non-stop speculation across his 15th and final year at JGR.
It became apparent by mid-summer that owner Joe Gibbs wasn't going to line up a sponsor that could meet the financial requirements of both the driver and the team. On Sept. 13, 2022, Busch signed to drive for Richard Childress Racing in 2023. It was an unlikely alliance given their history, but the owner saw Busch as a competitor who could bring home RCR's first championship since Dale Earnhardt in 1994.
The partnership flourished with victories at Fontana, Talladega, and WWT Raceway in the first 15 races of the season.
Got a question or observation about racing? Sportscasting's John Moriello does a mailbag column each Friday. Write to him at [email protected]