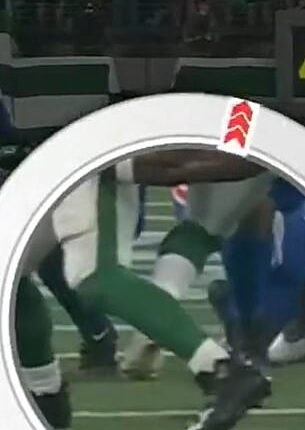 Footage has emerged which appears to show the horrific moment Aaron Rodgers tore his Achilles and ended his season after just four snaps.
The quarterback made his long awaited debut for the New York Jets on Monday night, when the Buffalo Bills were beaten in overtime at MetLife Stadium.
But Rodgers was carted from the field after just a few minutes and now won't play again in the 2023 campaign.
The injury occured when Rodgers was sacked by Leonard Floyd and close-up footage shows how the 39-year-old's leg jolted during the collision.
The slow-motion video shows Rodgers' left foot hit the floor before his calf seems to pop under the strain on his heel.
Aaron Rodgers suffered a season-ending Achilles injury just minutes into his Jets debut
After the quarterback's foot hits the turf, his calf seems to pop under the strain on his heel
Rodgers dropped to the ground and needed medical attention before being carted away from the field. 
Following the sickening injury, Shannon Sharpe suggested the Jets should throw $25million at 46-year-old Tom Brady, who called time on his career earlier this year.
Stephen A. Smith, meanwhile, believes Rodgers' absence has cost the team any hopes of winning the Super Bowl.
Jets general manager Joe Douglas and head coach Robert Saleh must now decide how to fill the hole left by four-time MVP Rodgers. 
Zach Wilson came in against the Bills, while Carson Wentz, Matt Ryan and Nick Foles are among the names being linked with a move to MetLife.
The 39-year-old lifted his foot off the turf after suffering the injury against the Bills on Monday
The quarterback dropped to the ground and needed medical assistance straight away 
As he was carted away from the field, Rodgers was seen wearing a protective boot 
But, speaking on ESPN's First Take, former tight end Sharpe believes the Jets have to replace one all-time great with another.
'I'm calling Tom Brady – seriously!' he said. The seven-time Super Bowl champion was honored by the Patriots – where he spent two decades – on Sunday. But on Monday he was in New York with his family. 
'I'm going to put a call into Tom Brady. All these other guys, I understand that… Wentz is available and Nick Foles is avaialble and maybe you can get Matt Ryan to come up out of the booth with CBS… I'm calling Tom!'
Sharpe added: '"Tom, seriously, we've got $25million on the table for you. Can you come give us something?"'




Post source: Daily mail