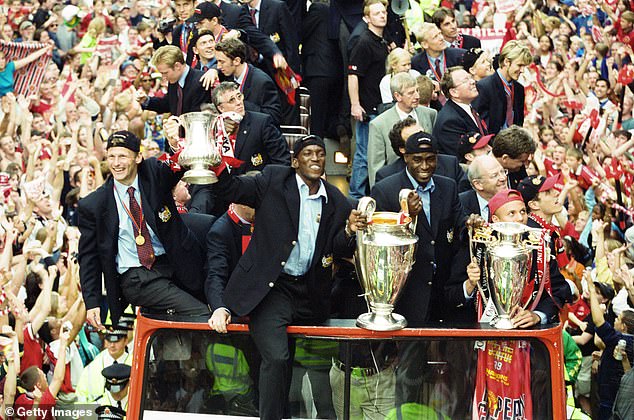 Amazon announce new Manchester United documentary series focusing on the historic 1999 treble-winning season… but fans will have to wait until next year to watch it
Amazon Prime Video have announced a new series with Manchester United
The series will focus on Man United's legendary 1999 treble-winning season
The show will air in 2024 to mark the fact it's been 25 years since the treble
Amazon Prime Video have unveiled they are working on a new documentary series that focuses on Manchester United's treble-winning 1999 season.
The broadcaster has already worked with Arsenal, Tottenham and Manchester City on their ground-breaking All or Nothing series. They've also gone behind the scenes with Borussia Dortmund and the All Black rugby team. 
Now they have been given access to cover the history of Manchester United's most successful season ever. However, the show won't air until 2024 as Amazon are looking to release the series on the 25th anniversary of the treble-winning season. 
There are few details surrounding how the series will work, with Amazon making the announcement on Thursday. But, it's likely that the documentary will follow a similar format to other clubs they have worked with.
United lifted the Champions League, Premier League and FA Cup titles in 99′, becoming the first and currently only English team to do ever do so.
Amazon have announced a new series focusing on Man United's 1999 treble-winning season
The series could feature former stars such as David Beckham (middle) and iconic manager Sir Alex Ferguson (right)
Moments such as their iconic last-minute comeback victory over Bayern Munich in the European Cup semi-final, Ryan Giggs' wondergoal against Arsenal in the Cup and their one-point win over the Gunners for the league title will all be focused on.
Interviews with title-winning manager Sir Alex Ferguson and some of the club's treble-winning team such as David Beckham, Gary Neville, and Ole Gunnar Solskjaer could also be involved.
Manchester United made no official post about the new series which suggests that it will not feature any of the club's current crop of stars or feature behind-the-scenes footage from the dressing room.
The show will be aired in 2024, however, no information regarding a specific date or how many episodes will be included in the series has been released.
Paul Scholes (right) and Teddy Sheringham (left) were part of United's most successful team
The documentary could eventually pave the way for more access to be given to United, with Amazon and Netflix previously rumoured to be vying to land a fly-on-the-wall filming deal with the Premier League giants.
Former Man United player Paul Pogba irked his old club when he signed a deal with Amazon for a series focusing on his tumultuous last season at Old Trafford and his reasons for leaving.
Arch rivals Manchester City could have become the second team to record treble success by the time the show hits television screens, with Pep Guardiola's side already securing the Premier League title and in the final of the FA Cup and Champions League.
Man United have a golden chance to deny City that opportunity when they meet at Wembley in the final on Saturday, June 3. 


Post source: Daily mail