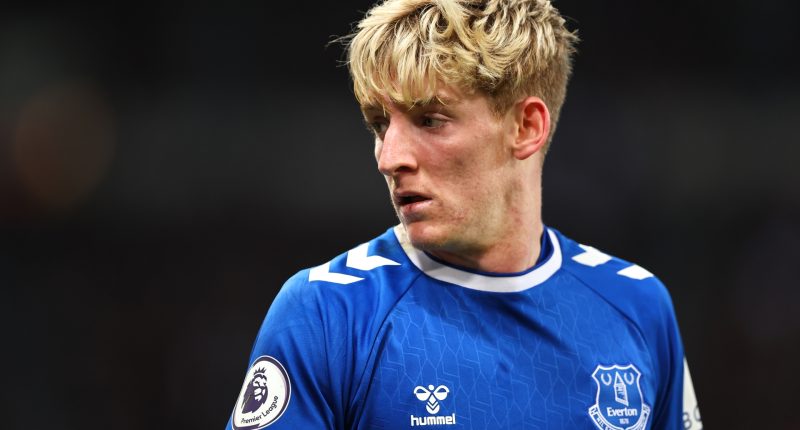 Anthony Gordon has missed Everton training for the third day in a row, talkSPORT understands.
The 21-year-old has been heavily linked with a move away from Goodison Park to high-flying Newcastle.
It was revealed that Gordon was absent from training on both Tuesday and Wednesday, and he is yet to make a return to Finch Farm.
Everton would be open to selling him this month in order to raise funds for new signings of their own.
However, talkSPORT's Alex Crook is unsure as to whether a move to the Magpies will actually take place.
When asked on White and Jordan if a deal will get done, he said: "I'm not sure Jim.
"I don't know what information you're getting out of Everton this morning but at the moment I think the fee is a problem.
"Simon [Jordan] summed it up nicely, I think he said '£60million for Anthony Gordon is ridiculous.' You look at his numbers, there's not a £60m player there.
"Sometimes, players get their head turned. I think in this case, Everton have had their head turned by what Chelsea were supposedly willing to pay last summer.
"Newcastle won't pay £60m, so unless that fee comes down dramatically, I would say the chances of Gordon joining Eddie Howe at St. James' Park is more unlikely than likely this lunchtime."
Gordon was speculated to be joining Chelsea in the summer but he has remained at Everton so far this season.
The Toffees sit 19th in the Premier League table and are searching for their next manager following the sacking of Frank Lampard.
Newcastle on the other hand have been one of this season's surprise packages, with the Magpies contending for a top four finish.
Eddie Howe's side are third in the table and level with Manchester United on 39 points, and three clear of Tottenham in fifth with a game in hand.
Keep up to date with all the latest news, rumours and gossip with our LIVE transfer blog