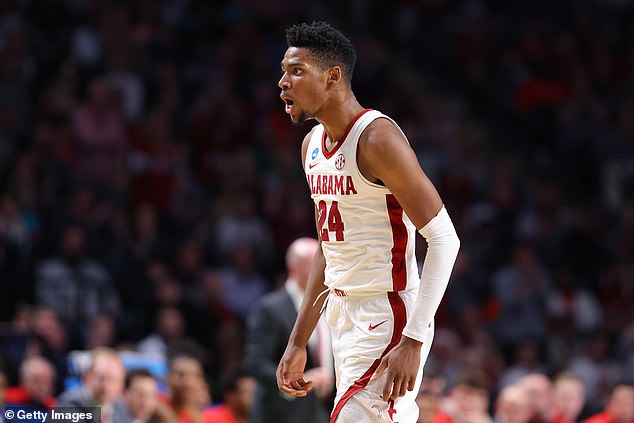 Brandon Miller bounces back after going SCORELESS in first round with 19 points on Saturday… as Alabama reaches the Sweet Sixteen with 73-51 win over Maryland
Alabama got a far more characteristic performance from its star man and advanced to the Sweet Sixteen as they beat Maryland 73-51 on Saturday night.
The No. 1 seed Crimson Tide led just 28-23 after a low-scoring first half, but rounded into form in the final 20 minutes to comfortably reach the next stage of the tournament.
Key to the win was Brandon Miller, the team's leading scorer this season and a projected lottery pick in the next NBA draft, who surprisigily went scoreless in the Tide's first-round win vs. Texas A&M University-Corpus Christi.
Miller, according to his coach Nate Oats, was battling a groin injury in that game but looked back to his best vs. Maryland, scoring 19 points and grabbing seven rebounds in the eventual blowout.
The first-team All-American flashed his abilities during a dominant sequence early in the second half, as he blocked Maryland's Jahmir Young at the rim before nailing a three-pointer at the other end. 
Brandon Miller had 19 points and seven rebounds in an impressive performance
His teammate Jahvon Quinerly led all scorers with 22 points, while Julian Reese had a team-high 14.
Young also added 12 for the Terrapins, and Charles Bediako added a 10-point, 10-rebound double for the Tide.
Miller's name surfaced last month in court testimony involving the capital murder case of former Alabama player Darius Miles and another man, who are charged in the fatal shooting of 23-year-old Jamea Harris on Jan. 15.
A police officer testified that Miles texted Miller asking him to bring Miles' gun in the early morning hours of the shooting.
However, Miller has not been charged with a crime as he continues to star for Alabama.
Alabama guard Jahvon Quinerly scored a game-high 22 points in a comfortable win
Maryland's Hakim Hart reacts during the second half against Alabama on Saturday
The Tide (31-5) have now advanced to their second Sweet 16 in the past three tournaments and ninth overall. 
Alabama has already done better than some of their top-seeded counterparts.
Before the game even tipped off, two top seeds – Purdue and defending national champion Kansas – had gone down, and No. 1 seed Houston trailed Tide rival Auburn by 10 points at halftime earlier at Legacy Arena before pulling away.
Alabama will face fifth-seeded San Diego State in the South Region semifinals in Louisville, Kentucky, on Friday.


Post source: Daily mail