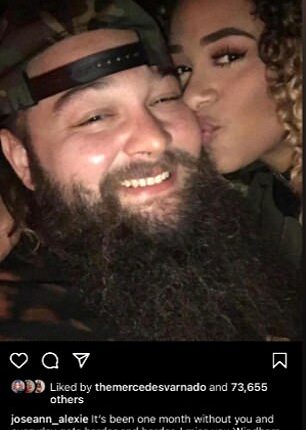 Wyatt died last month after suffering a heart attack – he was only 36 
She previously posted another heartbreaking tribute shortly after his death  
DailyMail.com provides all the latest international sports news 
Late WWE superstar Bray Wyatt's fiancé JoJo Offerman has posted another emotional tribute heartfelt tribute to Instagram after he died last month.
'It's been one month without you and everyday gets harder and harder,' Offerman wrote as the caption of a picture.
'I miss you Windham, The kids miss you. Thinking of you every second of every day. I love you so much, always ❤️'
She also recently posted a thank you message on her Instagram story that read: 'Thank you everyone who has reached out the last month. I haven't been able to respond to every message/comment, but i see and appreciate all the support.'
Wyatt, whose real name was Windham Rotunda, tragically passed away last month at age 36 after suffering a heart attack.
Bray Wyatt's fiancé JoJo Offerman has posted her second emotional tribute on Instagram
The three-time World Champion shockingly died of a heart attack at 36 years old last month
The latest post marks Offerman's second emotional tribute to Wyatt to on her Instagram 
The three-time World Champion was discovered to have not been wearing his doctor-recommended heart defibrillator when he shockingly passed away.
This latest post now marks Offerman's second post paying tribute to Wyatt after she previously posted a slideshow with several photos of herself, Wyatt, and their family along with a long heart felt caption. 
The couple had been together since 2017 and got engaged last year.
Following his death, loads of tributes have taken place from all corners of the wrestling world to honor the fallen star.
Tributes have included social media posts, interviews, tattoos, tribute shows, gear worn during matches, and singing his entrance theme at other sporting events and concerts.
WWE's website still holds tributes to Wyatt on it's superstar page which shows images of his empty rocking chair sitting at the top of the entrance way and his lantern sitting alone in the ring has his 'fireflies' could be seen illuminating the crowd.
WWE.com still holds tributes to Wyatt, including pictures of his rocking chair and lantern on the top and bottom of superstars page
Shortly before his passing reports had stated he was nearing a comeback after being cleared to return to the ring.
Although he had been medically cleared to wrestle again, WWE had been taking precautions to ensure his long-term health will be stable following the illness, which was believed to have been both career and life-threatening.
According to the report, the Florida-born star's outlook had improved significantly, and the company was mapping out creative plans for the former WWE champion.
September had been pinpointed for a potential return, however nothing was set in stone officially.


Post source: Daily mail