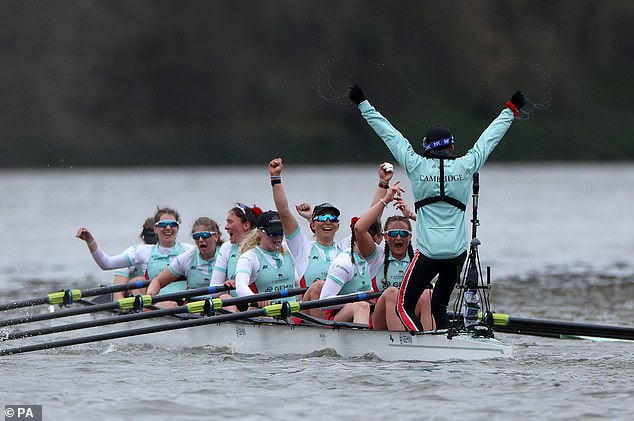 Cambridge prevail in 77th women's boat race as they secure a sixth consecutive victory in a time of 20:28 despite Oxford's strong start
Cambridge triumphed in the women's boat race for the sixth time in succession
The winners managed to edge out Oxford in a time of 20:28 in an intriguing race 
Oxford got off to a strong start but Cambridge clawed back their advantage 
Cambridge extended their winning streak to six straight women's Boat Races after beating Oxford with another dominant performance in the 77th edition.
Both blue boats broke records in 2022, Cambridge edging out their competition by 2 1/4 lengths, yet with Cambridge president Caoimhe Dempsey the only returnee for either university and no Olympians in either crew for 2023 it was bound to be a different race.
This time, Oxford got out to a strong start but Cambridge crept ever closer and quickly clawed back Oxford's advantage, umpire Matt Smith issuing his first stern warnings as the boats edged dangerously close together. 
Cambridge prevailed in the women's boat race as they secured a sixth consecutive victory
The Oxford rowers look dejected following the conclusion of the women's boat race
Although Oxford started strongly, Cambridge managed to quickly claw back their advantage
By the halfway point, the defending champions were well ahead, Smith had put his flags away, and Cambridge continued to assert their dominance, never relenting as they easily steered to victory. 
Cambridge continued to assert their dominance, never relenting as they steered to victory


Post source: Daily mail