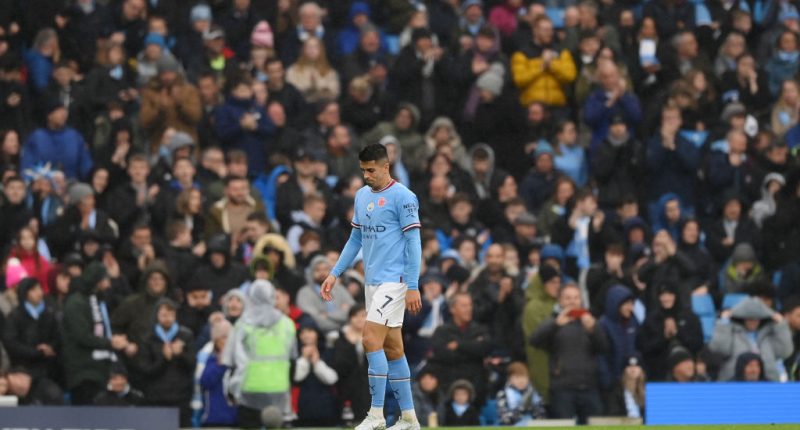 Manchester City defender Joao Cancelo has left the club to join German giants Bayern Munich on loan. 
Cancelo fell out of favour at City and has now headed to the Bundesliga until the end of the season, with the deal going through on deadline day.
Both clubs are still in the Champions League and with the possibility of them meeting in the knockout rounds, it has led to questions as to whether the right-back will be able to feature. 
He started every game but one for City during the group stage and will now be hoping to play a part in Bayern's European campaign. 
Can Cancelo play in the Champions League for Bayern? 
Cancelo will be allowed to play for Bayern in the Champions League. 
According to UEFA, clubs can register a maximum of three new players during the winter and it does not matter if they have already featured in the competition. 
The German side have made two signings already, bringing in Daley Blind and Yann Sommer, with Cancelo likely to be the third. 

Chelsea's £88m man Mudryk lasts just 45 minutes in Fulham stalemate due to 'heavy cold'

Greenwood latest, Conte return update after surgery, Potter cuts Aubameyang from UCL squad

Ozil 'to quit football' with ex-Arsenal star set to terminate deal at third straight club

Tyson Fury vs Oleksandr Usyk simulated in new boxing game and ends in huge KO

Mayweather Jr vs Chalmers UK PPV price more than Joshua vs Usyk or Fury vs Wilder

Ince reveals how Ten Hag and Man United staff 'lacked respect' after FA Cup clash
Can Cancelo play against City if they draw Bayern? 
Things get a bit more complicated when it comes to whether he can feature against City should Bayern face them in the knockout stages. 
Ultimately, it comes down to the loan deal and if the Premier League champions have put in a clause to prevent him from playing against them. 
If so, Cancelo would have to sit out of their meeting should they be drawn against each other in the Champions League.
But if there is no clause, then the right-back would be able to feature in the tie. 
Keep up to date with all the latest news, rumours and gossip with our LIVE transfer blog