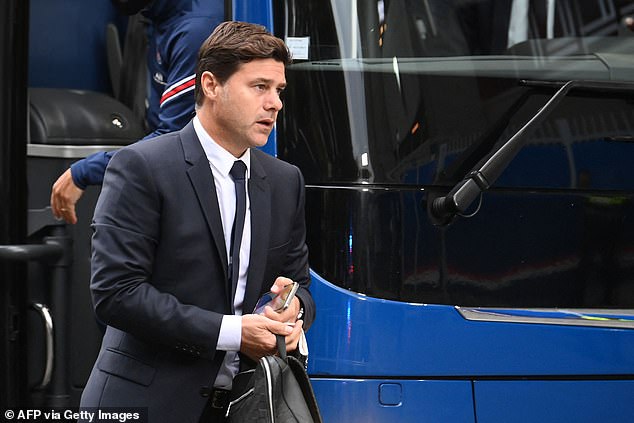 ADRIAN KAJUMBA: Chelsea know the major surgery needed to cut bloated squad will be tricky this summer… Todd Boehly and Co are expecting lowball offers and stars on big wages could dig their heels in
The last two transfer windows has seen Chelsea's squad bulge above 30 players 
Mauricio Pochettino prefers to work with a much smaller playing group 
Blues are already expecting to receive lowball offers as they need to sell 
It is one thing wanting to carry out a drastic squad cull and another actually managing to do it.
That is Chelsea's plan this summer but one that may not be straightforward.
It is a task that needs to be carried out with their senior squad swelling to over 30 players due to the number of arrivals in the last two windows.
New head coach Mauricio Pochettino prefers to work with far smaller group of players and the tally of needed exits being talked about to make that happen for the Argentinian is well into double figures.
Unlike Graham Potter, who tried his best to keep everyone involved, Pochettino is not expected to be quite as accommodating once he has decided who does and who does not fit into his plans.
Mauricio Pochettino knows he must thin out the Chelsea squad this summer 
N'Golo Kante (right) is one player who could leave on a free as his contract is expiring 
Chelsea's FFP situation is another reason why this summer's outs are as important as the ins.
But, among the issues Chelsea are facing will not just be finding takers but minimising the financial hit involved in offloading so many players.
Chelsea are already expecting to receive lowball offers from clubs looking to exploit their need to sell.
What they will also be hoping to avoid is the need to dip into their own pockets to smooth any exits for their unwanted players, via methods such as supplementing sold players' wages at their next club or having to strike deals so their stars leave early or even as free agents.
Chelsea, heading into the summer window, are said to be calm about the situation and confident that they will get the required squad surgery done.
Though numerous well-placed sources have expressed doubt whether that will all be possible without Chelsea having to dip into their pockets at some point.
The wages many of their stars are on are unlikely to be matched elsewhere in many cases.
Subsequently, those players are unlikely to be in a rush to leave, especially not if doing so will leave them having to take a financial hit.
That will put the onus on Chelsea to find the solutions to unlock certain situations.
Todd Boehly's buys over the last two transfer windows have seen the squad bulge over 30
Kalidou Koulibaly is a player who still has plenty of time left on his contract 
Of the permanent Chelsea players with uncertain futures, only N'Golo Kante sees his contract expire this summer, meaning a clean break for him and the Stamford Bridge club is not far away if no extension is agreed.
Mateo Kovacic, Cesar Azpilicueta, Pierre-Emerick Aubameyang, Ruben Loftus-Cheek, Christian Pulisic, Mason Mount and Callum Hudson-Odoi are among those tied to the club until next year.
Kepa Arrizabalaga, Hakim Ziyech, Edouard Mendy and Conor Gallagher are under contract until 2025.
Kalidou Koulibaly, Romelu Lukaku and Trevoh Chalobah have even longer left on their deals.
Some will be keen leavers and have sufficient interest in their services which will work in Chelsea's favour.
Others might not be so willing. And that could be as big an issue as the size of clear-out required.


Post source: Daily mail