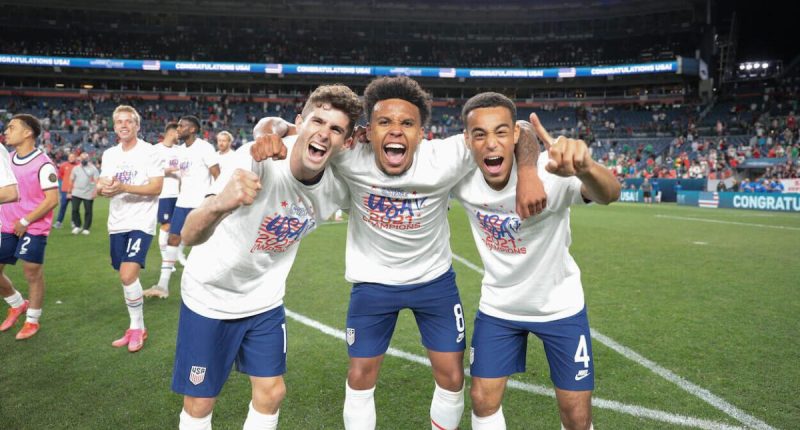 American soccer players are on the rise. More and more are playing at the highest levels of the game in Europe, and teams are now paying multimillion transfer fees for professional footballers born in the U.S. Chelsea star Christian Pulisic is the most expensive American soccer player ever, but who else makes the list of most expensive American players? Here we will go through the top five.
For this list, the "most expensive American soccer player" is determined by the total transfer fees clubs have paid for the player over the course of their career. So, for Chelsea star Christian Pulisic, who's only made one professional move, that is his total value. For others, the value is a total of transfer and loan fees throughout their career.
Christian Pulisic and the five most expensive American transfers
5. Tyler Adams: RB Leipzig to Leeds United, €19.63M
This is going to become a familiar theme here, but the No. 5 player on this list of most expensive American soccer players is Tyler Adams of Leeds United. The New York native went from the New York Red Bulls in MLS to RB Leipzig in the German Bundesliga for €2.63 million in 2019, then to America's Premier League team, Leeds United, in 2022 for €17 million, per Transfermrkt.  
Adams is well worth the money. He is a stalwart in the defensive midfield for Leeds and captained the USMNT at the 2022 World Cup over, ironically, "Captain America," Christian Pulisic. If Adams does move again, expect him to rocket up this list.
4. Sergino Dest: Ajax to Barcelona, €21M
Right-back Sergino Dest actually grew up in the Netherlands, but thanks to his Surinamese-American father, he represents the USMNT internationally. Dest started playing for the Ajax youth club at nine. By 18, he made the senior side and impressed in his one year with that team. In 2020, Ajax moved Dest to Spanish giants Barcelona for a handsome €21 million fee.
Dest has failed to impress at Barcelona, and the club sent him out on a free loan to AC Milan in 2022. The full-back has struggled with form and injuries in Italy as well and is now linked to a move to Atletico Madrid back in Spain this coming offseason.
3. Weston McKennie: Juventus to Leeds United, €25.25M
Weston McKennie took a winding road to reach his €21 million on the most expensive American soccer players list. The Texas native went from the Dallas FC academy as a youngster to the FC Schalke 04 U19 team in 2016. Shalke then loaned McKennie to Juventus in Italy for a €4.5 million fee. The German side then sold McKennie to Juve for €20.5 million.
McKennie had a nice World Cup for the USMNT but never found his footing at Juventus. In January of 2023, the Italian club loaned the central midfielder to Leeds United for a €1.25 million fee.
2. Brenden Aaronson: RB Salzburg to Leeds United, €45.54M
Attacking midfielder Brenden Aaronson, from the Philadelphia suburbs of New Jersey, got to No. 2 on this list of the most expensive American soccer players in two major steps. After a stint as a teenager with the Philadelphia Union, the MLS club sold him to RB Salzburg in Austria for €12.7 million. And after impressing in Europe, Salzburg turned around and moved Aaronson to Leeds United for a €32.84 million fee.
Aaronson is still just 22 and, as such, hasn't fully broken out yet. Still, with his potential, the next time he changes teams, the money could be massive. As it stands now, his €32.84 million fee is the second-highest one-time fee for an American after Christian Pulisic.
1. Christian Pulisic: Borussia Dortmund to Chelsea, €64M
Christian Pulisic went from Hershey, Pennsylvania, to Borussia Dortmund in Germany ahead of his 16th birthday. While most Americans have to wait until 18 to play for a European club due to international work rules, Pulisic has a Croatian passport, thanks to his paternal grandfather. After becoming the youngest non-German to score a goal in the Bundesliga, Pulisic impressed scouts around Europe.
In 2019, Chelsea in the English Premier League splashed €64 million on the young star, officially making him the most expensive American soccer player ever (and the third-most-expensive transfer in Borussia Dortmund history).
Pulisic's time under new Chelsea manager Graham Potter isn't going all that well, especially after an injury cost him a good chunk of the 2022-23 season. This means a Christian Pulisic transfer or loan could be in this works in the summer of 2023, which would only add to his title of the most expensive American soccer player ever.