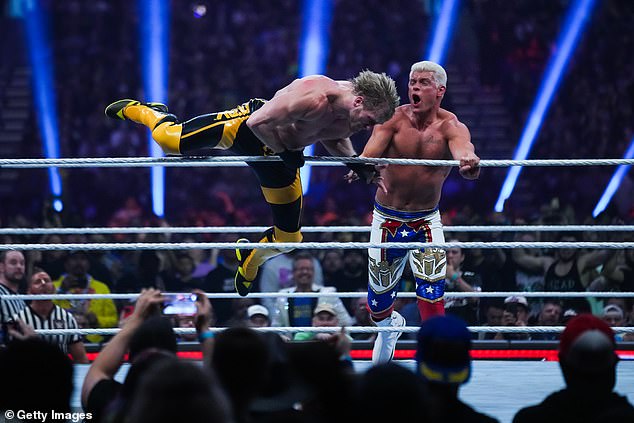 It's been a whirlwind for Cody Rhodes in WWE recently. 
The veteran wrestler has made a spectacular comeback to the wrestling ring, winning the 2023 Royal Rumble to give himself a shot at WrestleMania.
And in an exclusive interview with Sportsmail's Alex McCarthy, Rhodes opened up on the sport and discussed his personal journey.
The 37-year-old insisted legendary figure The Rock does not need to return for WrestleMania thanks to WWE's top storylines, that he expects Sami Zayn's story with Roman Reigns to converge with his title pursuit, and revealed his talks with Triple H when Vince McMahon 'retired'.
Read everything he said below… 
It's been a massive whirlwind for American wrestler Cody Rhodes (right) in WWE recently
The veteran has made a spectacular comeback to the ring, winning the 2023 Royal Rumble
Talk to us about your Royal Rumble win…
Cody Rhodes: There are things you feel will like will be commonplace when you say it in your mind: 'Oh I want to win Royal Rumble, I want to go on last and be the main event in Wrestlemania'. When you say them and you're ambitious and you have goals they don't come out the same as when it actually happens. 
For me, I'm so glad that there was 60 yards running to the ring and then obviously coming back because I really did get to think 'things are going to change, this is a life-changing moment'. 
And then when I came back to the curtain, my friend who works in talent relations John Cone stood next to me and he had a giant book and he said 'are you ready for this?'. What he meant was the amount of media that potentially would follow but also every step of the way. 
And to hear it from him because he was a referee, we had come up together, it was… I won't say sobering, that's probably the nicest thing I could've heard. There's nothing nice or romantic about those words but I knew what they meant: 'Are you ready for this', I just said 'yes, let's go' and it's becoming more real everyday. 
Obviously, I'm an emotional guy. I get emotional about the idea of what's about to happen but I've got to reel that in and remember we did all this training, months and months of rehab in addition to strength training and the dietitian and everything we had on board with us at the nightmare factory.
Now we've got to do it at an even higher level. Best way to put it: The work isn't done.
His victory in San Antonio, Texas in January gives him a shot at the upcoming WrestleMania
Rhodes (pictured) , 37, opened up in an exclusive interview with Sportsmail's Alex McCarthy
How was it returning to the ring? 
Rhodes: Obviously, I'm not in charge of anything here, I'm a man on the roster and I want to be the top man but in the case of the video packages, the vignette and the build-up, that was Triple H's idea. 
WWE is always super anonymous in terms of the team but I have to shoutout Coleen, JB, Adam Panucci, Ben Williams, these guys who put these videos together. My situation is unique in the sense that I do not play a character. I don't even think I'm one of those turned up to 11. I am me always and that's a little scary. 
That's intimidating if you're saying 'He's coming back at the Royal Rumble'. You're putting yourself in a situation where you best deliver and I thought that they covered my journey in such a real way. 
I do love that there was a parallel with, as we all know, Beautiful Day. The score did such a good job with Born for This, it's a fun package plus (my dog) Pharoah got to be in the video.
It's hard to look at videos of yourself and be anything but a huge critic. I'm very critical of my things but I loved what they did.  
I think sometimes it's nice as a wrestler, as a superstar, competitor, to call your shot. But it's always risky when you call your shot, Joe Namath called his shot, Babe Ruth called his shot. I'm not saying im those individuals, but in our world Triple H called his shot. 
It's very important to keep your word with fans, especially now as I have got older, keeping your word. I felt like I kept my word. I showed up in the best shape of my fricking life and I was able to get it done. 
Rhodes said he 'called his shot' like baseball legend Babe Ruth (pictured) had called his shot
Describe the transition from Vince McMahon to Triple H… 
Rhodes: One of the really nice things was the amount of communication. It's already a downtrodden, melancholy situation when you're injured and you're on your couch. This happened very quickly, I'm not really up and moving and I'm not hitting the weights, I'm not in that process of getting near coming back.
At the time when the transition happened, I wasn't even close to coming back and I was communicated with every step of the way. I was communicated with by Vince and by Triple H. That was very nice. I was never left in the dark on anything and obviously, these are different visions, they change. 
My transaction needs to be simple. I don't need to be caught up in whatever is happening behind the scenes. Those stories can be fun but I need my story on the screen to be the more important story. For that to happen I need to be at the very best. Best as a superstar, best as a wrestler because then the other stuff will come. 
You wont have to worry about does he like me, does she like me, do they like me. It's the best I could be, was the best I could be. 
I did not notice any elements of the transition that were chaotic, everyone communicated with me and as a wrestler in his prime and also a veteran wrestler that makes you feel very wanted and very needed. It filled me up and gave me confidence in my rehab. 
He also opened up on the transition from chief Vince McMahon (left) to boss Triple H (right)
On the Sami Zayn vs The Bloodline storyline… 
Rhodes: I love that you bring it up that these stories are running parallel, I think sometimes wrestling fans think it's got to be one or it's got to be the other, whereas I subscribe – and I'm not in charge – I subscribe to give them everything. 
That's where it really takes smart planners and creative individuals on how you layer it, but it's very important and this is something I learned when I was away, is that if someone's doing great, and they are entertaining and helping move that ship forward – and I would say Seth Rollins is another example on Raw.
He was another when I was gone who's really changed and continued to carry Raw on his back. I was fully expecting these things to converge, and I'm still expecting them to converge just because we have these wonderful options. 
With all the respect in the world to one of the GOATs, The Rock, it looks like the options we have here within the roster are even better because of the stories that are happening. 
One story about finishing something that started in 1978 – seven years before I was even born – and another story of really the tragedy of being welcomed into the Bloodline and then what you saw unfolds. 
I think with the amount of time between now and WrestleMania, it's important I keep my eyes squarely fixed on WrestleMania, squarely wrestling for the WWE Undisputed Championship and as you hinted that may not be against Roman Reigns. 
Now I don't know if anyone can beat Roman Reigns, I truly don't, but for me, it's about picking up the chip. I love the melodrama, I love the heaviness in these stories that develop in our industry, but I am very simply a man who's looking for a belt.
I'm looking for a championship title belt, the most important one in our world the biggest in all – not just in the WWE bubble but in all the bubbles – and be the first to say as a Rhodes I did it. And it wasn't Dusty Rhodes and it wasn't Dustin Rhodes – it was Cody Rhodes.
Rhodes added icon The Rock does not need to return because of the strength of the storylines
Tell us about THAT Ricky Starks incident… 
Rhodes: What an idiot though! The locker rooms do have crossovers, people are married to people in other locker rooms, people are friends. This is a kid I started on his journey at my former home and I obviously want to follow and see his journey, but I will say it's probably best none of my friends visit me at the shows anymore. 
We don't need security cam footage of that poor dude, I hope he didn't get into any trouble – and I don't think he did. He was there to support a friend, who had been absolutely down and out with the pec injury.
Ricky was one of the guys that nursed me through it, and helped remind me of who I can be, so I was happy to have him there and I had some other friends there but the other friends stayed on the bus because they're not crazy yayhoos. 
Maybe we'll just watch each other at a distance, I don't want to cause any strife between any places. We all love the same thing, it's a squared circle, it's the wrestling industry. I always think I don't have any rules, they are rules! 
He also revealed how Sami Zayn's storyline with The Bloodline could converge with his own
On the Rhodes family at WrestleMania 
Rhodes: Dustin and I have a really unique relationship, it's almost like we're at our optimum, at our peak as brothers when we're together in the ring. I think we're very settled on the idea that we never want to tag with each other again because as much fun as we had we were at each other's throats. 
But we're also at a point where I love my brother so much and… I think about him every day, I really do. That would be special. It would take some people getting along to agree, but that's also very cart before horse. Because currently what's in front of me, and this is no hyperbole is Roman Reigns. 
That's what in front of me, as he refers to himself as god-tier. Buddy, this guy is the best of the best in terms of strength, in terms of conditioning, I mean 800 and something days – it can't be argued. 
If you're making a list and he's not number one, your list ain't real. Can't be argued. I'm not thinking about any victory lap or celebration, all I'm thinking about is making sure I don't get hit square in the mouth with a Superman punch.
The American Nightmare also discussed the importance of family (pictured with wife Brandi)
And on the Dusty Rhodes classic… 
Rhodes: For all things Dusty Rhodes, the AE (All Elite) documentary that I was able to be an executive producer on, his story that is coming soon before WrestleMania – not to mention the Dusty Rhodes classic. 
One of the things that was obviously very appealing to me was that you're never not your father or your mother's son and it's important to me he cannot be there to protect and defend and explain his legacy. So that was obviously a huge thing that was on the table that was appealing to me to being here and coming back to WWE. 
When it comes to the Dusty Classic I'd love to do anything to be involved, it's obviously more NXT and that's where we're developing tomorrow's superstars today and you want to keep it in their wheelhouse. 
But I'd be more than happy to hand potentially Pretty Deadly that trophy or a different team cos there's so much good going on down there. Shawn Michaels has done an incredible job and continues to do, but I love all things Dusty.
I just want to make sure he's represented fairly, cos for a good time in the business he wasn't. WWE has done a great job in letting you know what he did, how he did it and how it still affects what we do.


Post source: Daily mail