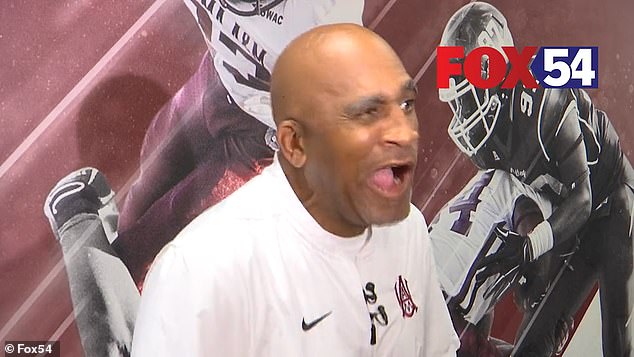 Connell Maynor went viral Wednesday for a bizarre soundbite in a TV interview
Maynor was discussing the Bulldog's upcoming game vs. Southern U Jaguars
DailyMail.com provides all the latest international sports news 
College football is well and truly back and there are some dawgs strutting their stuff on Saturdays already.
They include the now-famed Alabama A&M Bulldogs, who have shot to virality – more specifically, its coach Connell Maynor – ahead of its first conference game of the season. 
Speaking to FOX54, Maynor was discussing his glee before the game vs. SWAC opponents, Southern University Jaguars.
'Man, I'm very excited because we Bulldogs and we ready to bite,' Maynor said before barking with the gusto that would've made a Pitbull cry. 
'I'm ready to go. It's game week. It's conference week. This is going to rub off on my team – those guys are excited, we had a good practice this morning.'
Alabama A&M Bulldogs football coach shot to virality after a bizarre interview on FOX54
The Bulldogs play its first in-conference game of the season Saturday vs. Southern University
Known for his quirky personality in the Normal, Alabama region, Maynor has been the Bulldogs' coach since 2018. 
He had a college career of his own – at Winston-Salem State and North Carolina A&T.
Then, Maynor played 11 years in the now-defunct Arena Football League between 1996-2006.
Alabama A&M lost its first game but won its second in its two out-of-conference matchups thus far. 
The Bulldogs were destroyed 47-13 by the SEC's Vanderbilt in Tennessee before routing Lane 51-13.




Post source: Daily mail