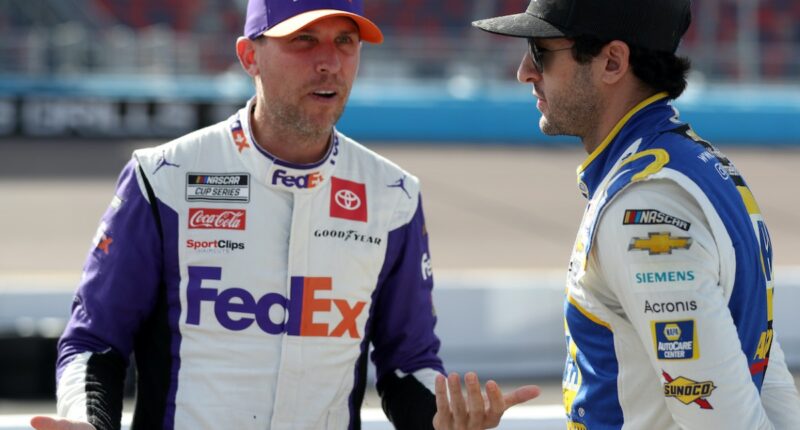 Denny Hamlin and Chase Elliott have a history dating back to 2017 at Martinsville. Through the years, fans of the 2020 Cup Series champion have gladly reminded the three-time Daytona 500 winner about that incident.
Interestingly, before last weekend's All-Star Race at North Wilkesboro Speedway, the Joe Gibbs Racing driver surprisingly revealed that he and his younger counterpart actually have a unique connection dating back a lot farther and long before either made a lap in a NASCAR race.
Denny Hamlin dumps Chase Elliott at Martinsville
In 2017, Chase Elliott was leading the fall race at Martinsville with three laps remaining and appeared headed for his first career Cup victory. Denny Hamlin, who was riding on the rear bumper of the No. 24, changed those plans when he drove into the rear of the HMS car, and sent it up the track into the wall. 
A few minutes later on the cool-down lap, Elliott showed his displeasure when he sideswiped the No. 11 car several times. And that was just the beginning. Several moments later, the second-year driver confronted the veteran in a heated exchange. 
Later than evening, the JGR driver accepted blame and apologized on Twitter.
"I've raced nearly 10,000 races since I was 7," he said. "Today was the first time I've ever spun the leader. I regret the outcome because it was not intentional the way it turned out, but I'm responsible for my own car and take blame. 
"Nothing I say now can turn back the clock, but it's a life lesson and I hope no kids out there who aspire to race thinks that's the way you should do it. It's becoming normal in our sport now and I hate that I'm now in the discussion as a guilty party, but I'll move on and hope Chase, his team, and fans will accept my apology."
Hamlin says Elliott fans still remind him of Martinsville
Hamlin has never shied away from discussing that incident. The subject came up earlier this year on the debut episode of his Actions Detrimental podcast when he talked about a variety of topics, including the studio setup and why certain pictures are hanging on the wall. 
The 42-year-old said instead of featuring photos of his greatest accomplishments, like winning three Daytona 500s, he wanted to show some of his less flattering moments, including some of his conflicts with various drivers.
"I want to show the not-so-pleasant moments I've had," he acknowledged. "One I thought that was a must is behind (co-host) Jared's head. It's me spinning out Chase at Martinsville because every time I nudge someone, all the Chase Elliott fans are like, 'Yeah, but look what you did.' 
"I'm like, 'Dude, it's been five years or more than that now. Get over it. He's gotten over it. Why can't you? What's your problem?' I would recommend to them, don't throw stones."  
Pair have connection that goes back years before Martinsville
That conflict at The Paperclip will forever link the two drivers, as fans of Elliott have shown in their comments directed at Hamlin through the years. What most fans don't know is the pair were already connected long before that incident ever happened. 
Hamlin revealed as much during a pre-race segment on Fox at North Wilkesboro when he and Elliott joined Fox's Regan Smith for a walk around the 0.625-mile track to discuss their roles as Coke drivers.
"Certainly surreal to be now part of the Coke family for 18 years," Hamlin said. "I'm wondering if that's the longest stint that anyone's had but it's just been a dream of mine. I'll never forget rolling off the grid for my very first race in Kansas and I got Rusty Wallace beside me, Jeff Gordon in the row in front of me and Mark Martin in front of him. And I'm like, this is a video game. This just isn't real that I'm out here on the track with these guys. 
"Oddly enough when Chase was younger rooting on his dad, we were rooting on the same guy because Bill Elliott was my guy. That's why I have No. 11. When he drove for Junior Johnson, I just latched on to that number and I've been No. 11 my entire racing career because of Bill Elliott."
"For me, it's just cool to hear that right," Elliott responded. "To hear a fellow competitor that was a fan of dads. I remember growing up and him being a part of the Coke family for many years. I was trained as a little kid, if it wasn't a Coke product, I had to take the label off of it. But it's definitely special and then I appreciate them letting me be a part of this group."
Hamlin and Elliott having a Coke and a smile.
To stay up to date on the latest happenings in NASCAR, including breaking stories you can't find anywhere else, follow Kyle on YouTube and Twitter.