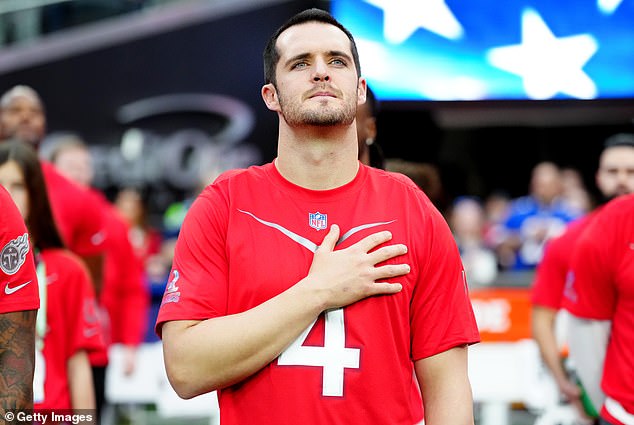 Derek Carr 'will visit the New Orleans Saints tomorrow' as February 15 deadline and his Las Vegas Raiders departure edges closer… but 'no trade is imminent' with $40m guarantee looming
Four-time Pro Bowl quarterback Derek Carr is set to visit the New Orleans Saints on Wednesday, according to reports.
The Raiders have granted Carr permission to take the visit as he does proper due diligence on his potential future team,  according to NFL Network's Ian Rapoport.
The Raiders previously were not allowing Carr or his agent to speak to other teams but that stance was softened after Carr announced he was not planning to extend the February 15 deadline.
'I don't think that would be best for me,' said Carr, who also has a no-trade clause in his contract. 
If the Raiders do not secure a trade or release by that deadline Carr's $32.9million base salary for next season and $7.5m of his 2024 salary will become fully guaranteed.
Derek Carr is set to visit the New Orleans Saints this week while 'doing due diligence' 
The Pro Bowl QB is set to be traded or released by the Las Vegas Raiders by February 15
It was noted by NFL Network's Mike Garafolo that even though Carr has been allowed to visit the Saints, the Raiders have not given him permission to discuss a trade with other teams.
The Saints are one of the many teams in the market for a new quarterback this season after Jameis Winston played only three games before being sat for the year after suffering fractures in his back.
Veteran Andy Dalton performed solid in Winston's place but he averaged only 205.1 passing yards per game.
Carr, who threw for 3,522 yards, 24 touchdowns and 14 interceptions before being benched for the final two games of the 2022 season would provide a sizeable upgrade at the position.
It is tough to see the Saints or any team for that matter giving up a sizeable trade package for Carr since the Raiders will have no choice but to release him if they cannot find a trade partner that Carr approves of. 
New Orleans is using this visit however to shoot them to front of the list whether Carr moves via trade or free agency.
There is also a familiar face at New Orleans that may increase Carr's comfortability with the team in head coach Dennis Allen. 
Allen was the Raiders' head coach from 2012 to 2014, and he coached Carr in his first four NFL games in 2014 before getting fired after an 0-4 start to the season.
Saints coach Dennis Allen gave Carr his first four career starts as an NFL quarterback in 2014




Post source: Daily mail