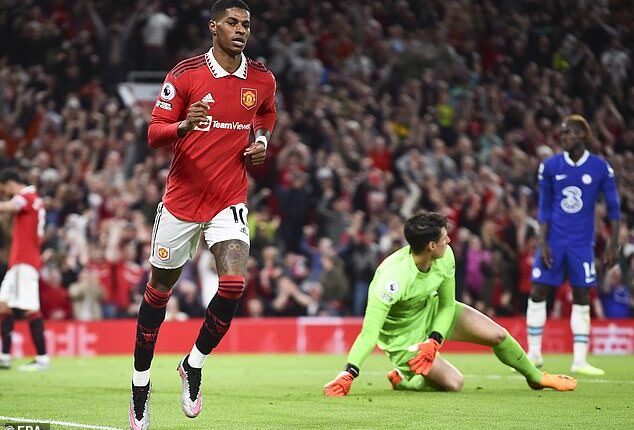 Erik ten Hag sets Marcus Rashford a FORTY goal target for next season… but the Man United boss admits more firepower is needed amid links to Harry Kane and Evan Ferguson
Marcus Rashford scored his 30th goal of the season against Chelsea in midweek
Man United boss Erik Ten Hag believes the forward has room for improvement
The Red Devils are linked with several strikers ahead of the transfer window 
Manchester United boss Erik ten Hag has told Marcus Rashford he can score 40 goals next season.
The England striker netted against Chelsea on Thursday to become the first United player to hit 30 in all competitions in a season since Robin van Persie did it in United's last championship season a decade ago.
The 25-year-old still has time to add to his tally against Fulham at Old Trafford on Sunday in the final league fixture before the FA Cup final showdown with Manchester City next Saturday.
But the 25-year-old has had no time to dwell on his achievement before being set new targets.
While Erling Haaland's record-breaking goal exploits across Manchester at the champions City might be beyond him, Ten Hag believes there remains scope for Rashford to be even more prolific in front of goal.
Marcus Rashford scored his 30th goal of the season in Man United's 4-1 victory over Chelsea
Man United boss Erik ten Hag believes the England forward can score 40 goals next season
'I think yes,' said the Dutchman. 'There's a lot of room for improvement in his game.
'I am convinced he can score even more. When you take, for instance, the last ten games he didn't score many goals. I think only two or three, so yes he can improve.
'I am happy from what he did last season to now that he brings himself back. We supported him where we could, with the way we play but also in his mental mindset.
'We are happy with that, but we must push him more. I think he's capable of scoring 40 goals in a season. So for him that's the next step.'
Despite netting four against a porous Chelsea on Thursday, United are the lowest scorers in the top six with just 56 in their 37 games.
Ten Hag clearly believes that the current squad has the capability of adding more goals, though it's not been helped by the loss of Cristiano Ronaldo mid-season, Anthony Martial's injury woes and the suspension of Mason Greenwood on rape and assault allegations which have now been dropped.
And while Rashford's scoring heroics have eased some of the pressure, bringing in a striker in the summer is a likely priority with United linked with everyone from Tottenham's Harry Kane to Brighton wonderkid Evan Ferguson being linked.
'Across the squad we need more scoring abilities.' added Ten Hag. 'You can't be dependent on one. But it can also come from this squad.'
Tottenham's Harry Kane and Brighton's Evan Ferguson are among forwards linked to the club
With a top-four slot and a return to the Champions League now secured, on the back of winning the Carabao Cup – their first trophy in six seasons, Ten Hag may already have turned his attentions Wembley.
There is no doubt ending City's Treble bid would be a huge feather in Ten Hag's cap, his focus remains firmly on his long-term vision rather than the here and now.
Asked if the final was a free hit or an opportunity to make a statement for next season, he added: 'Both not, but when I was here one year ago I said we wanted to win trophies. We have won one so we want to go for the highest.
'It is a long way and is going to be a project. It is not over one year. We talk two or three years. But when there's an opportunity to win a trophy, for every player it's massive.
'I have to count but there are not so many players in our squad who have won the FA Cup. An FA Cup is huge. For everyone in the world there is one Champions League, there is one so many titles, but when the FA Cup is all over the world, it's global wide, a huge reputation. I know from the Netherlands how big the FA Cup is.
'So we have an opportunity to win it. We are also realistic that it's not going to be easy. But I can assure you one thing we will give everything that's in our power to get the cup.'


Post source: Daily mail