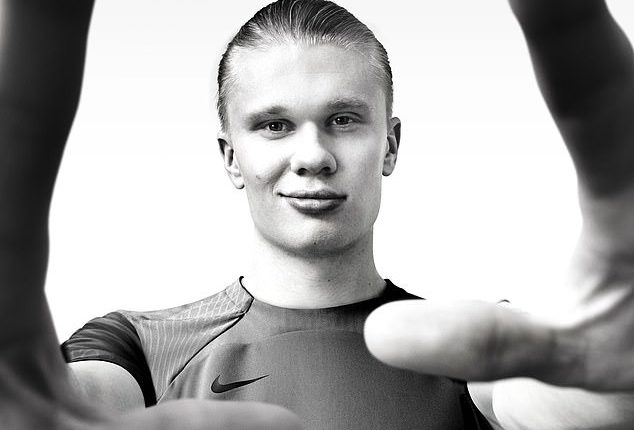 Erling Haaland RE-JOINS Nike as Man City star shuns interest from adidas and Puma to pen lucrative boot deal… with US giant tipping him to leave 'his stamp on the future of the game' as face of the brand
Erling Haaland has signed a new boot deal with Nike after his last one expired
Haaland had been seen wearing adidas and Puma, but chose to stick with Nike 
The 22-year-old joins Man City teammate Kevin De Bruyne on Nike's roster 
Erling Haaland has rejoined Nike after his previous boot deal with the sportswear giant elapsed.
The Manchester City scoring machine has been proving popular with fans and neutrals for his ability to find the net, with 42 goals so far this season.
Haaland was on Nike's books until January 2022, and since then, he has been seen wearing adidas and Puma, with both companies keen to snap up the Norwegian.
But instead the company ended speculation about the 22-year-old's future by confirming he had signed again with Nike, reportedly for a lucrative fee. 
In a press release, the fashion giant said: 'Norwegian Erling Haaland has signed with Nike, ushering in the next phase of Nike football.' 
Erling Haaland has re-signed a deal with Nike, a brand he has worked with since the age of 14
Nike's previous lucrative boot deal with the Norwegian star striker ran out in January 2022
Nike Football tweeted: 'A new era of #9. @erlinghaaland is a Force Of Nature. Are you ready?'
Haaland has been connected with the American brand since the age of 14, and his reaffirmation to the behemoth fashion house means he remains in good company.
Nike's roster of football stars includes international stars like Kylian Mbappe, Marcus Rashford and Sam Kerr, alongside Haaland's Man City teammate Kevin De Bruyne.   
Haaland became the youngest player to score 30 goals in the UEFA Champions League, at 22 years and 236 days, something that the brand was keen to highlight when announcing the new deal. 
Nike said his goalscoring feats meant he put 'his stamp on the future of the game', and will now become one of the faces of the famous tick logo, starting with new black-and-white photographs of the Norwegian in action and posing. 
The American brand credited Haaland's phenomenal success to a 'commitment to holistic fitness and mental health'.
Sportsmail previously reported that Haaland was close to signing with Nike for £20m-a-year, although it is believed that product satisfaction and comfort were also important factors in the Norwegian's decision. 
Nike beat off competition for the 22-year-old's signature from rival brands adidas and Puma
Haaland's Man City teammate Kevin De Bruyne is also on Nike's star-studded football roster 
Puma are the sponsors of Manchester City's kits – which may have led them to believe that they had an advantage in pursuit of the player, who looks set to extend his time at the Etihad with a mammoth new deal. 
Man City star Jack Grealish recently left Nike, who he had been with since he was a teenager, in favour of a £10m-a-season deal with Puma. 
It is also thought that adidas had submitted a big-money offer to the Norwegian, and their chief executive Bjorn Gulden is close friends with Haaland's family, but it was not enough to tempt the 22-year-old.
However, Haaland's first game in new Nike boots may have to wait. He had to withdraw from Norway's Euro 2024 qualifiers after picking up a groin injury, and he has been given one final training session to prove that he is fit enough to take on Liverpool on Saturday afternoon.  


Post source: Daily mail