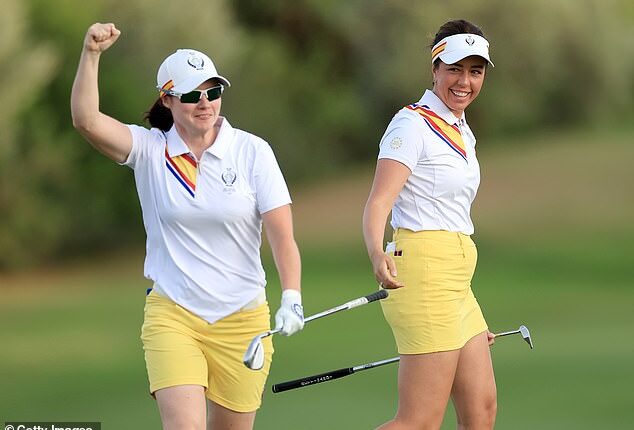 The US swept the opening foursomes to take a 4-0 lead against Europe in Spain 
Europe responded in the fourballs to cut the deficit to 5-3 at the end of day one 
Captain Suzann Pettersen said she was proud of her team's fightback 
Buried in the morning, signs of life in the afternoon. If Europe are to succeed in their bid for a third straight Solheim Cup win, it will require a fightback but a far smaller one than seemed likely after the bleakest of starts.
At 5-3 down, there will be significant concern for Suzann Pettersen's team, but it will be balanced by some relief having been humiliated 4-0 in the opening foursomes.
The US had never previously swept the board in an alternate-shot session and there was no flattery in the scoreline. At that stage, they were dominant, but the fourballs brought about a resurgence.
Europe got their first half point on the board through Gemma Dryburgh and Magdelene Sagstrom and Rose Zhang and Megan Khang, before Georgia Hall and Leona Maguire, who was the star of their 2021 win, holed with a chip from the fringe at 18 to see off Lexi Thompson and world No 2 Lilia Vu one up. Thompson had a chance to save the half with an up-and-down from five yards but shanked the pitch sideways and down a hill.
That put life back into Europe's bid and their situation improved further with a hefty 4&2 win for Carlota Ciganda and Linn Grant against Angel Yin and Ally Ewing. With light fading quickly in Andalucia, not assisted by awfully slow play, Emily Pedersen and Maja Stark halved with Jennifer Kupucho and Allisen Corpuz. That tie was illuminated by Pedersen's hole in one at the 12th, as was her day after a 5&4 walloping alongside Charley Hull in the morning against Ewing and Cheyenne Knight.
 Leona Maguire and Georgia Hall helped Europe fight back in the afternoon fourballs
Megan Khang, pictured, won the opening match of the foursomes with Lexi Thompson
Europe's captain Suzann Pettersen admitted her team had a tough start after going 4-0 down
Their loss, and Hull's discomfort with a neck issue, was an ominous beginning. It got worse when Thompson and Megan Khang won 2&1 against Grant and Stark and Danielle Kang and Andrea Lee came through one up against Celine Boutier and Hall, Europe's strongest pair. Nelly Korda and Allisen Corpuz saw off Maguire and Anna Nordqvist by the same margin.
'It is a tough start when you go 4-0 but I didn't think we played badly,' said Pettersen. 'I am immensely proud of the way the entire team fought back in the afternoon. Hats off to all my players for the way they fought and showed their character. I think the level of golf in the afternoon was unbelievable. You get knocked down you get up and try it again. We are right in it.'
US captain Stacy Lewis said: 'It was a great day. The start was somewhat unexpected. Just a great day. Those halves in the afternoon could be huge by Sunday.' 




Post source: Daily mail