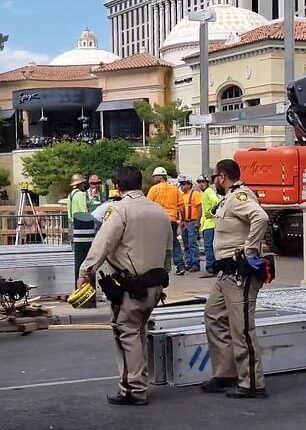 Police were called to the Bellagio Fountains on the Las Vegas strip on Saturday
A man was taken to hospital with a serious injury before being pronounced dead
DailyMail.com provides all the latest international sports news 
A construction worker has been tragically killed while helping set up this year's inaugural Formula 1 Grand Prix in Las Vegas.
According to a local CBS affiliate, police were called to the Bellagio Fountains on the Las Vegas strip at around 11:30am on Saturday.
Footage from the scene shows a number of officers arriving at the Bellagio following reports of a serious injury.
A worker setting up structures for the upcoming F1 event was said to have suffered a 'major laceration to the neck', before he was rushed to a local hospital. 
It was there where the man in question was later pronounced dead following the laceration to his neck.
A construction worker was killed while helping set up the Formula 1 Grand Prix in Las Vegas
Further details on the incident have yet to be made public at this time.
In a video shared on TikTok, one user alleged that the tragic accident occurred because F1 workers 'push the construction too fast'.
Dailymail.com has contacted Las Vegas Metropolitan Police Department and the F1 for further information. 
The Occupational Safety and Health Administration is reportedly set to lead a subsequent investigation.
The Las Vegas Grand Prix, set to take place on November 19, will see drivers pass through all the major landmarks, including the Bellagio.
Caesars Palace, the Venetian and The Sphere will also be passed during the race.
Nevada has not hosted a Grand Prix since 1982, with race organizers reportedly forking out $560million in construction to bring it back this year.
The Las Vegas Grand Prix, set to take place on November 19, will see drivers pass through all the major landmarks


Post source: Daily mail