Miami Heat star Jimmy Butler is no stranger to overcoming obstacles. Nobody gave Butler and the Heat a shot to reach the NBA Finals after they barely made their way into the NBA postseason as the eighth seed in the Eastern Conference.
Off the court, not too many people gave Butler a shot — period. That included his biological mother. Butler has seen his share of tough times, and being an eighth seed against the favored Boston Celtics in the Eastern Conference Finals isn't one of them. For Butler, it's always been "one day at a time."
Jimmy Butler has always been the underdog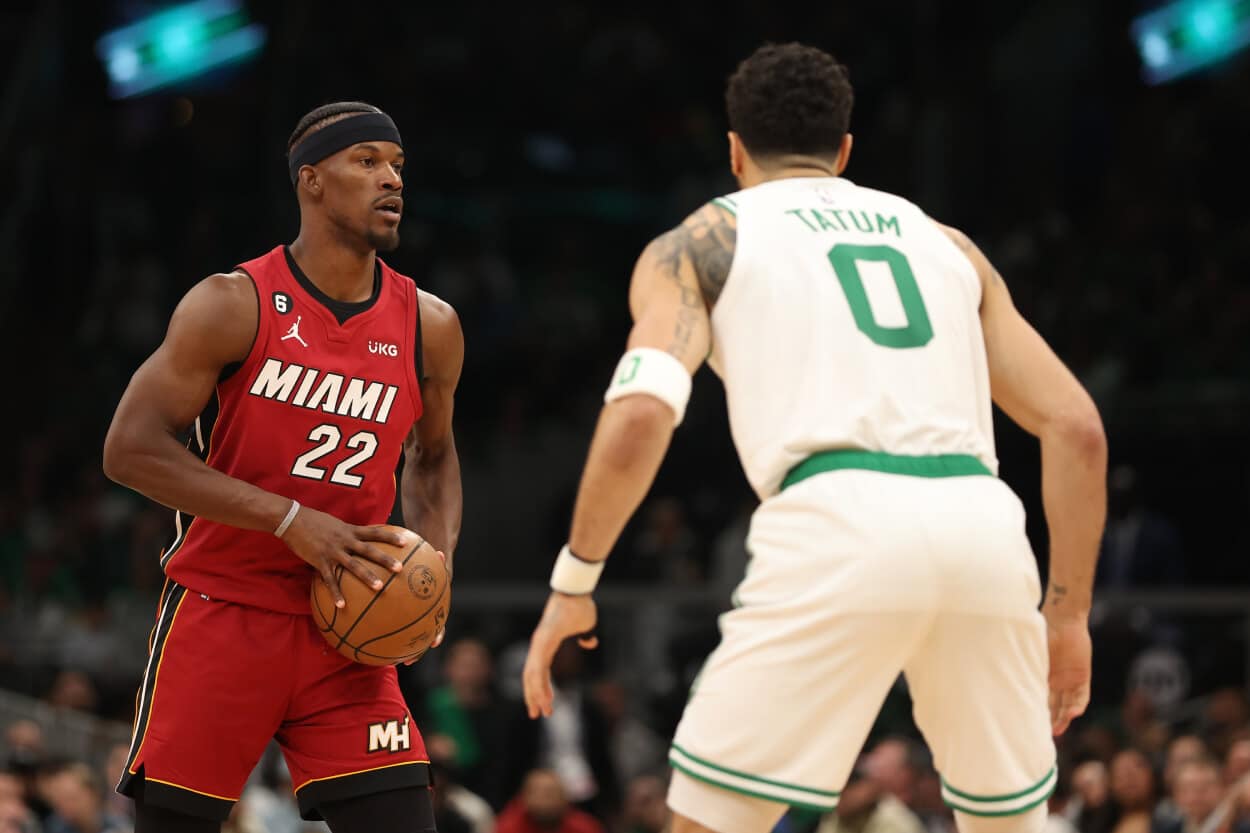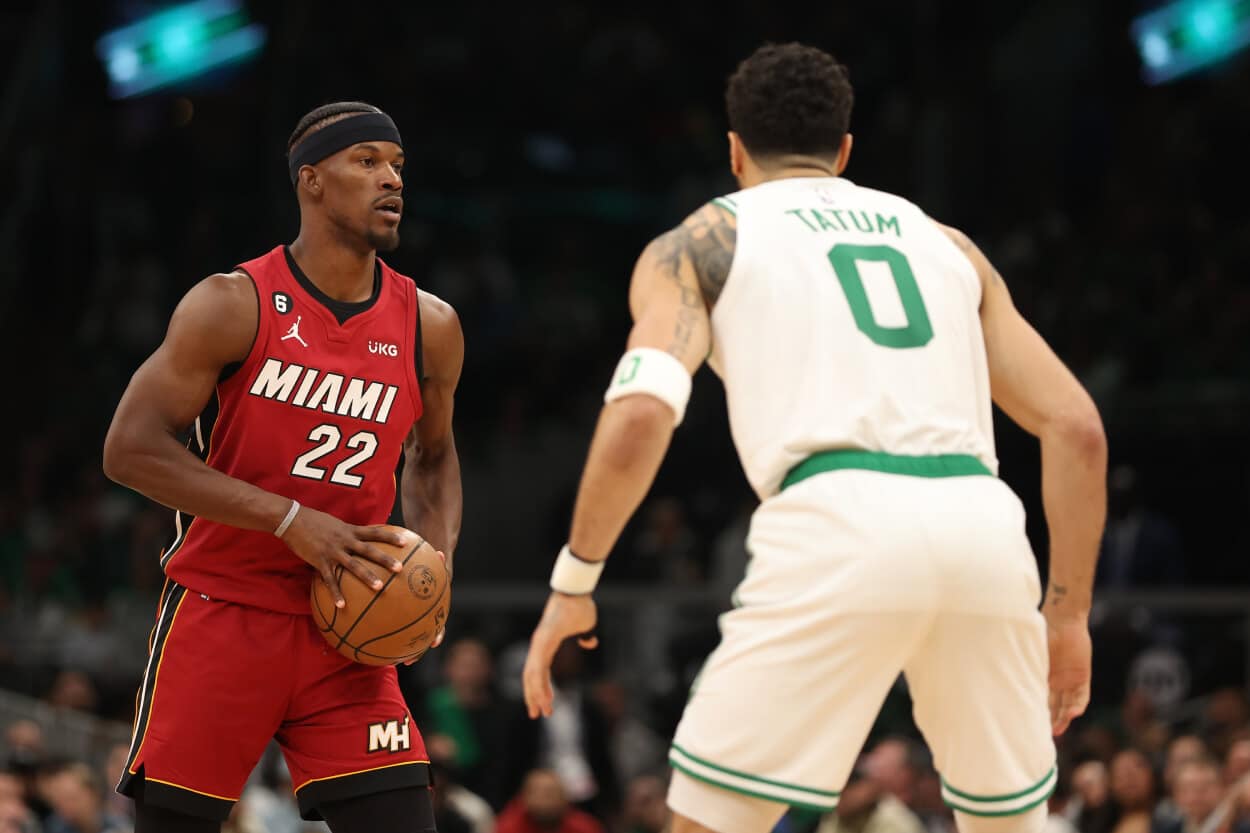 If you think being an underdog in the NBA playoffs fazes Jimmy Butler, think again. The Miami Heat needed a victory over the Chicago Bulls in the play-in tourney just to secure a spot in the postseason.
Bulter guided the Heat to a shocking upset of the top-seeded Milwaukee Bucks in the first round. He scored 56 points in Game 4 to give Miami a 3-1 series lead. In Game 5, he scored a layup with one second left in regulation to help the Heat overcome a 16-point deficit. Butler finished with 42 points as Miami clinched the series in Milwaukee with a 128-126 overtime win.
Butler led the Heat to a win over the New York Knicks in six games in the conference semifinals. On Wednesday, Butler poured in 35 points as the Heat shocked the Boston Celtics in Game 1 in the Eastern Conference Finals.
For Butler, it's business as usual. He's always been the underdog.
Butler wasn't heavily recruited out of high school, so he enrolled at Tyler Junior College. He led the team in scoring as a freshman and drew the attention of schools like Marquette, Kentucky, and Clemson. He chose Marquette, where he struggled to find playing time as a sophomore. By his senior year, he had worked hard to establish an all-around game. He averaged 15.7 points and 6.1 rebounds in his final season before the Chicago Bulls made him the 30th overall pick in the 2011 NBA Draft.
It's always been 'one day at a time' for Butler
Just before that 2011 NBA Draft, Butler spoke with Chad Ford of ESPN. He talked about how his biological mother bailed out on him when he was 13 years old. He had nowhere to go. Ford wrote that Butler never spoke publicly about this before. At that time, his Marquette coach, Buzz Williams, told him to take things one day at a time.
"That's literally what I live by," Butler said then. "One day at a time."
With his father out of the picture, Butler lived with friends for a short time. A ninth-grader at his high school named Jordan Leslie was impressed by Butler's basketball ability as a senior. Leslie challenged Butler to a three-point shooting contest. Butler accepted, and the two became friends. Leslie's mom, Michelle Lambert, reluctantly let Butler stay with the family that already had seven children in the home.
She laid down some ground rules for Butler.
"I told him my kids looked up to him," Lambert said. "He had to stay out of trouble. Work hard in school. He had to set an example. And you know what? Jimmy did it. Anything I asked him to do, he did it without asking questions."
"We are all attached at the hip," Butler said then. "I give her the credit for helping me become who I am. I love her. You would think that she gave me birth. I talk to her every morning. She's very loving. That's my family. That's Michelle Lambert. She is my mom."
The story has always been the same for Butler. People doubting him as he overcame plenty of obstacles. Before the draft, he felt it.
"My whole life, people have doubted me," he said in 2011. "My mom did. People told me in high school I'm too short and not fast enough to play basketball. They didn't know my story. 
"I know I can overcome anything if I just take everything one day at a time."
Some things never change.