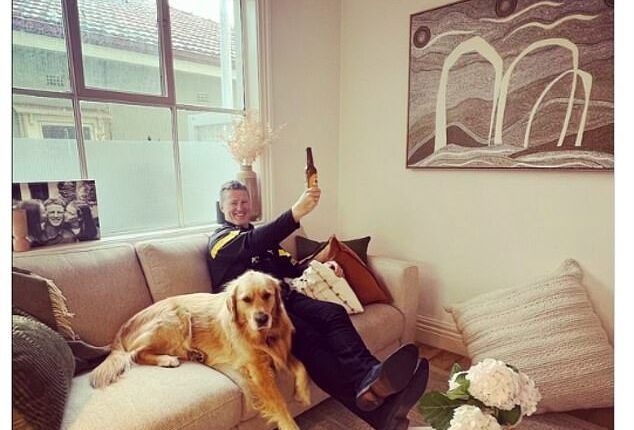 Why this photo of Damien Hardwick has Tigers fans in tears… for all the right reasons
Damien Hardwick enjoying retirement 
Posts pic of him beer in hand ready for game 
Tigers player laughs at him drinking so early 
Damien Hardwick doesn't seem to be having any trouble adapting to life away from the Richmond coaching box, at least according to his most recent Twitter post.
The three-time premiership coach, who shocked the AFL world with his sudden decision to quit guiding the Tigers on Tuesday, has posed in a picture of himself looking very relaxed and certainly very refreshed as he waited to watch his old club.
In the photo, posted at 10.07am on Sunday, Hardwick sits on a comfortable-looking couch with his feet apparently up and holding a beer in one hand with a broad smile as a golden retriever nestles in beside him. 
'How long to go?! Carn the Tigs,' the photo caption reads.
One of Hardwick's former proteges, Richmond spearhead Jack Riewoldt, was quick to note the early game day preparation Hardwick was putting in with the Tigers not scheduled to play Port Adelaide at the MCG until 1.10pm.
'Beers at 10am!!! Haha,' Riewoldt tweeted with an emoji emitting tears of laughter.
Former Richmond coach Damien Hardwick has posted a photo of him appearing very relaxed before his old club takes on Port Adelaide on Sunday
Tigers spearhead Jack Rieoldt was quick to seize on a particularly telling detail about the tweet
Some of those replying to the post were inspired to follow the example, using Hardwick's nickname of 'Dimma'.
'I'm going to have one to dimma. Well done mate enjoy your day hope the tigers get a win for ya,' a Twitter user replied. 
Plenty of others were quick to wish Hardwick well after his 13-year stint helming the Tigers, which saw the club go from perennial also-rans to a team that dominated the AFL from 2017 to 2020, only missing out on the flag in 2018.
The Tigers win in 2017 was the end of a 37-year-old drought for the long suffering army of Richmond supporters. 
'Take a well-deserved break!' one of the Tigers' faithful tweeted.
'Little bit less pressure than the coaches box mate! Hope you enjoy retirement,' wrote another.
Hardwick couldn't contain his emotions as he fronted the media on Tuesday after his decision to quit coaching RIchmond became public
Richmond full forward Jack Riewoldt was quite amused by his former coach's apparent new game day preparation schedule
Hardwick, 50, walked away from the club after being in charge of the Tigers for 307 game but still having 18 months left to run on his contract.
'I would rather leave too early than too late,' an emotional Hardwick told the media on Tuesday who admitted coaching 'had all became a bit too much' for him.
'I had a fair indication of the start of the year that I would like this to be my last year and then when the season did not turn out as I would have liked it, I started to question whether I was the right man for this job,' Hardwick said.
'I asked myself the question more and more, and if you keep asking yourself the question, you know the answer. If I could not give 100%, there was no way I was going to coach.
'This gives the club the greatest opportunity to find the next coach and I wish Andrew and his assistants all the very best.
The last year of Hardwick's tenure has been a difficult one for Richmond, which with just three wins has slid to 14th on the table ahead of its match against the high-flying Port Adelaide.


Post source: Daily mail