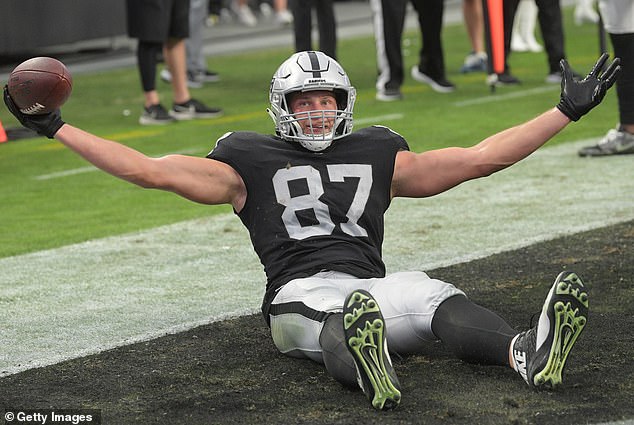 NFL player Foster Moreau is diagnosed with cancer, forcing him to step away from football after a 'routine physical' in the offseason found his 'new opponent' Hodgkin's lymphoma
NFL free agent tight end Foster Moreau will not be signing for a team anytime soon after the New Orleans Saints medical staff realized he has Hodgkin's Lymphoma. 
While undertaking a medical at the Saints, Moreau was alerted to the trying news, but he has promised to 'go kick this thing's ass' before returning to the league. 
'Through somewhat of a miraculous process, this Free Agency period has been life changing for me,' Moreau wrote on Twitter. 
'During a routine physical conducted by the Saint's medical team down in New Orleans, I've come to learn that I have Hodgkin's Lymphoma, and will be stepping away from football 
'At this time to fight a new opponent: Cancer. I'm grateful for the support and thankful for people who have stood firm with me. There hasn't been a single step I've taken without hundreds of people lighting the path before me, and I will continue to seek their guidance. 
Foster Moreau will not be signing for a team anytime soon after discovering he has cancer
Moreau alerted the NFL world to his condition in a series of tweets on Wednesday evening
'That being said, I'll go kick this thing's ass and get back to doing what I love! AMDG!'
The 25-year-old New Orleans native had previously spent four seasons with the Las Vegas Raiders. 
He was taken by Mark Davis' franchise in the fourth round of the 2019 NFL Draft after a strong college career at LSU.
More to follow… 


Post source: Daily mail