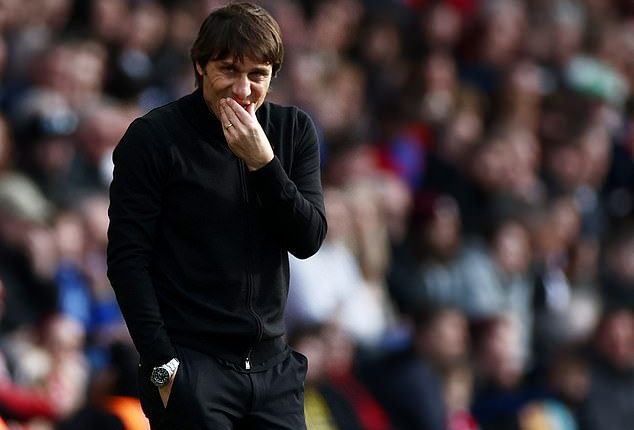 Antonio Conte has torn into his Tottenham players following their 3-3 draw against relegation-threatened Southampton, accusing them of having a losing mentality. 
Tottenham were leading 3-1 with 16 minutes remaining but ended up dropping points as their inconsistent form continued. 
Conte called for his players to take some responsibility after they missed out on the chance to move up to third place in the Premier League. 
Pedro Porro put Tottenham ahead just before half-time, with Che Adams equalising for Southampton early in the second half. Goals from Harry Kane and Ivan Perisic put Tottenham in control, but Southampton responded again to take a point as Theo Walcott scored before James Ward-Prowse converted a penalty late on.
Conte's side have experienced much frustration this month, going out of the FA Cup to Sheffield United before being eliminated from the Champions League by AC Milan. 
Antonio Conte was hugely frustrated with his team following the draw with Southampton
Tottenham were leading 3-1 with 16 minutes remaining but ended up drawing 3-3
The Tottenham boss was left hugely frustrated that his side threw away a lead.  
Speaking to Match of the Day, Conte said: 'I'm really upset because this is not the first time and I think today I can tell you that this is an upset because we are winning 3-1 and 15 minutes to go and I think you have to win. Instead we showed this another time, things started to improve last season but we lost the characteristic of last season. I don't want to talk about the technical aspect, the spirit is missing.
'We are not a team. We are a team that everyone is thinking of himself. When you are in this way that can happen, you lose against Sheffield United and drop the FA Cup and with AC Milan and to finish that run you're winning 3-1 and the last 15 you are able to give them the possibility to come back. I don't see the sense of responsibility of the players.'
Conte described Tottenham's collapse against Southampton as 'unacceptable' and stated that his team are 'going backwards'. 
'Now it's difficult – we are working hard with this group and to move in the right direction. We are going behind, I see a lot of negative situations and a lot of selfish situations and players that I don't like. I know the way to beat teams, in the past I beat a lot of teams, winning teams. 
'Now instead we are going behind, no one is interested in this. I have great frustration about this because me and the staff stay every day to think of a way to improve. Honestly, it's time I have to take responsibility for me, the staff, the club but also the players.
 Conte accused his Tottenham players of being selfish and having a losing mentality
There remains uncertainty over Conte's long-term future, with Daniel Levy watching on
'The players go onto the pitch, I'm the coach OK I take the responsibility, the players have to take some. What happened in the last period is unacceptable and I tried every moment to speak to try to improve the situation and to transfer the importance to be a team and to help each other but I'm not seeing this. Today it happened in a game we're winning 3-1, it's in your hands but we have to take the environment. The club and I are always under scrutiny but the players have to take responsibility because I don't see this.
'In a process where you want to build something, the tactical aspect is important but the spirit is important. The mind has to stay focussed and despite one and a half years, I saw much more last season. This season we are going backwards.' 
Tottenahm defender Eric Dier stated that his team only have themselves to blame
Defender Eric Dier said that Tottenham only have themselves to blame for the manner in which they capitulated. 
Speaking to Premier League Productions, Dier said: 'Sloppy mistakes. We lost possession easily, we didn't have control of the game at 3-1 when we should have. Really poor goals.
'We shouldn't let them back into the game. They lost both their centre-backs and we should cause them a lot more problems.
'We only have ourselves to blame.
'There will be lots of ups and downs for everybody fighting for top four and relegation. It will definitely go down to the last couple of weeks of the season. We need to find some consistency.'
Last week Conte, whose future at the club remains uncertain beyond this season, was critical of Tottenham's supporters, stating that they lack patience.
Conte said: 'We are far to aspire to be competitive to fight to win. The reality is this, we need time and patience. 
Last week Conte criticised Tottenham's supporters, stating that they lack patience
'I understood that here the patience is finished for the fans, for the environment and then we will see what happens in the future. I am not so stupid to kill myself.
'For sure this has to be clear. If you ask me now, "are you ready now to die for this club?" Yes. Until the end, I am ready to die for this club and then we will see because I am not so stupid to continue to kill myself.
'We signed a contract, a strange contract, one-year-and-a-half. Usually you sign a contract for three years but I think it was for the club and also for myself to see the situation.
'For the club to understand my personality, my capacity as a coach and for me from my side it was also the same. To understand if we were on the same page and if we wanted to do something important.
'Now after one year and a half, the club knows me, I know the club and this situation is clear. For this reason we have to finish the season and then we will see.
'The club knows very well what are my thoughts. I am ready to die for this club until the end of the season. Then if you ask me, we'll make the decision with the club and the club knows very well my thoughts.'
Tottenham are in fourth place in the Premier League, although they have played two games more than Newcastle, who are two points below them. 
Conte's contract is set to expire at the end of June and he has cut an increasingly frustrated figure in recent weeks.  


Post source: Daily mail