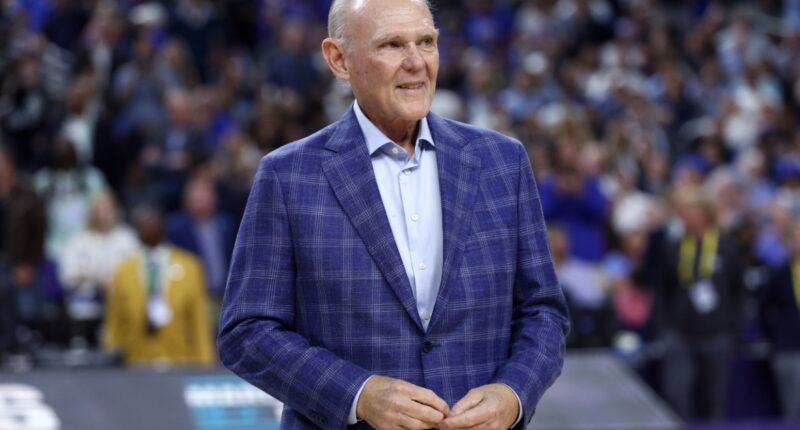 It's hard to figure out if George Karl is bored or if he just discovered social media. The Naismith Memorial Basketball Hall of Fame coach has been on an internet roll lately after the Denver Nuggets — one of the six teams he coached in the NBA — reached the NBA Finals.
Karl has given his basketball insight, and he has plenty. After 27 years in the league as a head coach, he certainly knows the game. He's recently made some Twitter posts that stirred up some controversy, claiming Denver center Nikola Jokic is a better passer than Boston Celtics legend Larry Bird. Karl got plenty of feedback, and he roasted some of the trolls. Now, Karl is suddenly becoming one of those trolls.
George Karl recently fired up some Boston Celtics fans
It's impressive to see Karl, 72, with a solid social media presence. He's quick-witted and interacts with plenty of commenters. He makes a point and sticks to it. Recently, he made a comment that said Jokic simply needs a couple of championships, and he'll be considered the better player over Bird.
"IF Jokic wins a couple championships, all u Bird fans are going to need to accept that Nikola > Larry," he tweeted. "Start preparing yourself in advance."
He also tweeted that he believes that Jokic, right now, is the more complete player than Bird. He gives Jokic the edge because of his passing skills.
"A former pro hoops owner told me this week Jokic is the most complete offensive player he's ever seen," Karl tweeted on Saturday. "I give him a slight nod there over Bird because of his passing skills. And there is a ton of (Arvydas) Sabonis and Duncan in his game. But I do think Jokic is one of one."
It's an interesting debate, but it seems like Karl's history with the Nuggets might be standing in the way. Bird is arguably a top-five player ever. He is the best passing forward ever to play. He won three straight MVPs and three championships. Jokic is a two-time MVP and, without question, a top-five player today.
His comments seemed to set off some Boston Celtics fans, and Karl seemed to enjoy the Twitter ride.
Karl suddenly has become the instigator
After Karl made the comments, Celtics fans came to defend Bird. Karl referred to many of them as "trolls."
"Please don't tell me @celtics trolls are worse than the Laker ones?!" he wrote.
After the Miami Heat upset the Celtics in Boston in Game 7, Karl, who predicted the Celtics would win the winner-take-all Game 7, became the troll.
"I do think @celtics fans should still watch the Finals to learn how Jokic is a better passer than Bird," Karl tweeted.
He then called out Chris Mannix of Sports Illustrated and NBC Sports Boston.
"Maybe @SIChrisMannix should head to Cancun tonight with the Celtics cause he's not gonna be able to find ANY storylines in the Heat v Nuggets!!" he tweeted.
Karl racked up 1,175 career victories as a head coach and was inducted into the Hall in 2022. Now he's making a name for himself in the world of social media.