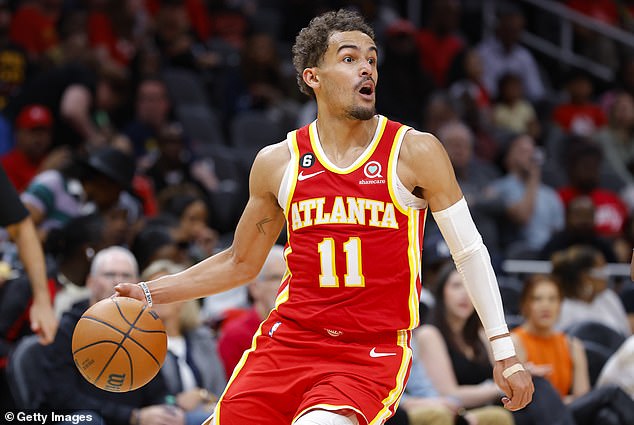 Atlanta Hawks' two-time All-Star Trae Young is ejected after angrily throwing the ball at an OFFICIAL during win over the Indiana Pacers
Hawks star Trae Young was ejected after heaving the ball hard to referee Scott Wall in the third quarter of Atlanta's 143-130 win over the Indiana Pacers on Saturday.
After Hawks coach Quin Snyder called a timeout in the third quarter with the game tied at 84, Young first bounced the ball and then threw a hard, two-handed pass at Wall, who caught the ball. Young was immediately called for a technical foul and ejected.
Only seconds earlier, Young had an apparent 3-pointer disallowed when he was called for a technical foul for sticking out his leg and tripping Aaron Nesmith.
'It's just a play he can't make,' Hawks coach Quin Snyder said after the game. 'I told him that. He knows it.'
Snyder said Young acknowledged his mistake.
Hawks' star Trae Young was ejected after forcefully throwing the ball at an official midgame 
Young had been angered by a technical foul he received that negated a previous 3pt-shot
After being called for the second technical foul Young was immediately ejected from the game
'There wasn't a single part of him that tried to rationalize what happened,' Snyder said.
The technical foul was Young's 15th of the season. A 16th technical foul results in an automatic one-game suspension.
Young, who leads Atlanta with his averages of 26.8 points and 10 assists, had 14 points and five assists when he was ejected.
The game was tied at 84 when Young was ejected. He had 14 points and five assists.
'We didn't allow it to turn into a negative,' Hawks guard Dejounte Murray said. 'We turned it into a positive and got the win.'
John Collina picked up the slack in Young's absence as he finished the game with 21 points 
John Collins led eight Atlanta scorers in double figures with 21 points and the Hawks' overcame Jordan Nwora's season-high 33 points to beat the Pacers.
'Our bench was unbelievable,' said Snyder, who added the backups 'raised the level of competitiveness in the game.' 
The Hawks (37-37) protected their shaky hold on the No. 8 spot in the Eastern Conference playoff standings. 
They began the day a half-game ahead of No. 9 Toronto and one game ahead of No. 10 Chicago in the tight competition for position in the play-in tournament. 


Post source: Daily mail