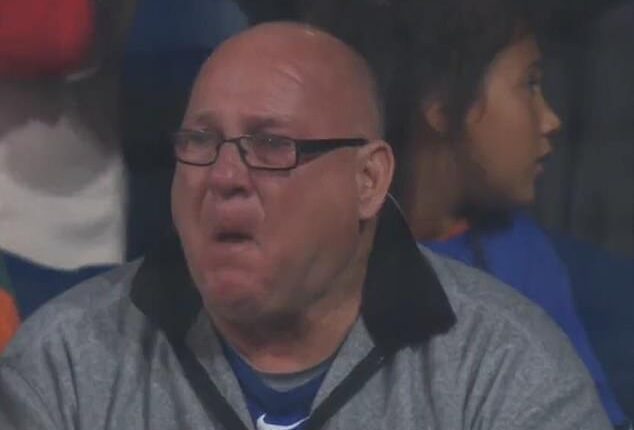 Orion Kerkering was scrounging for 2022 World Series tickets like any other fan
And now he could be relied upon this postseason for the Phillies
DailyMail.com provides all the latest international sports news
The father of Phillies pitcher Orion Kerkering was overwhelmed with emotion on Sunday night as his son made a hugely successful MLB debut.
His son tallied two strikeouts and three outs vs. the Mets in the eighth inning as Philadelphia won 5-2.
And Kerkering's dad was seen crying throughout the appearance in a heartwarming scene, as the crowd at Citizens Bank Park rose to its feet as well.
The 22-year-old's outing comes just a year after Kerkering scrounged for tickets to watch the Phillies in the World Series like any other fan.
Along with his girlfriend and father, Kerkering rooted on the Phillies from the third row of the upper deck as they blasted five homers against Houston in Game 3.
Orion Kerkering's dad could not contain his emotions as his son made his MLB debut
Kerkering pitches during the eighth inning of a baseball game against the New York Mets
This postseason, the Phillies could be relying on the young righty.
Kerkering – who went 4-1 with 14 saves and a 1.51 ERA across 49 relief appearances with four different minor league teams this season – is viewed as a potential high-leverage reliever for the postseason by Phillies manager Rob Thomson.
'The only thing with guys coming up here is, how they´re going to handle this environment,' Thomson said. 
'How they´re going to handle the third deck, 40,000 people in the stands, the passion of the city. He looked like he wasn´t even sweating.' 
Kerkering is postseason eligible, and he'll hope to impress over the Phillies' last six regular season games.
His team (87-69) has yet to officially clinch a postseason spot but could do so on Tuesday night.




Post source: Daily mail