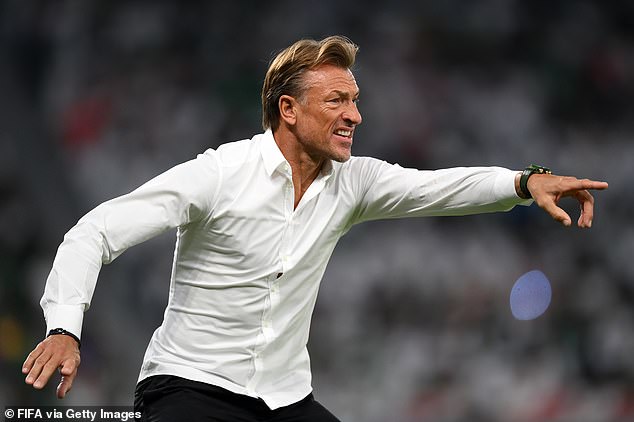 Saudi Arabia manager Herve Renard set to become new France Women's coach… after former manager Corinne Diacre was sacked following player MUTINY just five months before the World Cup
Former Ivory Coast and Morocco national team coach Herve Renard is set to become the France Women's coach two weeks after former manager Corinne Diacre was sacked, according to reports. 
The French manager is currently coaching the Saudi Arabia men's national team, who he has worked with since 2019, overseeing their feisty World Cup victory against eventual champions Argentina. 
But as per The Athletic, Renard will now be moving into the women's game for the first time, in a decision the players are said to be 'very happy about'. 
The 54-year-old is said to have taken 'a significant pay cut' to manage the women's team. 
Player relations under Renard's would-be predecessor Diacre were extremely fractured, which led to the French Football Federation taking action on March 9. 
Herve Renard is set to be named head coach of France Women's team ahead of the World Cup
Corinne Diacre was a divisive figure during her turbulent six-year stint at the national team
Three of France's star players – Marie-Antionette Katoto and Kadidiatou Diani of Paris Saint-Germain and captain Wendie Renard who plays for Champions League titleholders Lyon – refused to play under their former manager. 
When the FFF opened an investigation into the action taken by Katoto, Diani and Renard, they found a significant rift between the coach and a number of her experienced players. 
The former Clermont manager has a history of long-running disputes with players, and the member of the French national team questioned not only her management style, but her professionalism during her six-year stint as head coach. 
Rumours of disquiet within the national team camp came to the fore ahead of Euro 2022, where France were knocked out in the semi-finals by Germany, but Diacre was handed a new contract after the tournament. 
In the wake of brewing criticism and player mutiny at the beginning of March, and amid calls for her to resign, Diacre was adamant that she would stay on and fight the accusations she called 'a violent smear campaign'. 
But her position was weakened by the resignation in late February of one of her strongest allies within the FFF Noel Le Graet following allegations of sexual abuse. 
With the World Cup in Australia and New Zealand only five months away, the FFF will be invested in strengthening France's prospects by ensuring that all of their top players available for selection will compete. 
Wendie Renard was the first high-profile player to refuse to play under Diacre's stewardship
The women's team is ranked fifth in FIFA's international rankings, one place behind Sabrina Wiegman's European Championship-winning England side.  
Renard's pedigree will likely earn his immediate trust amongst the national team, as a storied international manager who has also coached Zambia and Angola. 
In 2017, he oversaw Morocco's first World Cup qualification in twenty years, and he is the only coach to have won the African Cup of Nations with two different countries.
The FFF's official announcement is expected after an agreement has been reached to end the manager's contract with the Saudi Arabian Football Federation. 


Post source: Daily mail