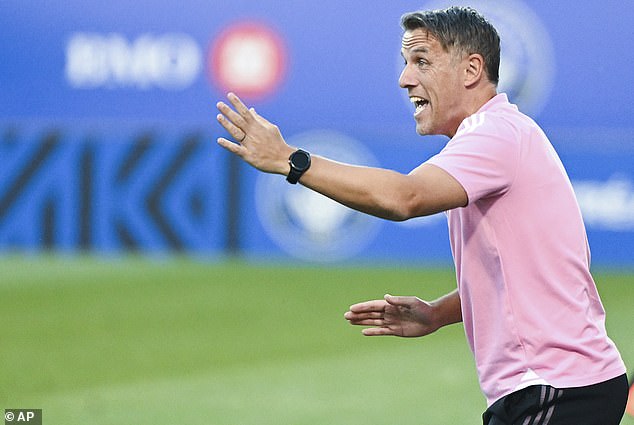 Inter Miami goes LAST in MLS Eastern Conference after Montreal loss as pressure grows on coach Phil Neville, with David Beckham's team recording two wins in TWELVE league games
Inter Miami's season has hit a new low by going last in MLS Eastern Conference 
Pressure is growing on Phil Neville, with two wins in the last 12 league games  
DailyMail.com provides all the latest international sports news 
Inter Miami have fallen to the bottom of the Eastern Conference standings in Major League Soccer after a 1-0 defeat to Montreal on Saturday night.
Phil Neville's team have now won just twice in the last 12 MLS games and have a miserable points tally of 15 from 14 games. The team has scored only 14 goals in the league so far, too.
Saturday's defeat – Chinonso Offor hit the decisive goal in the 53rd minute of the game – will pile the pressure on Neville, a former Manchester United teammate of Miami owner David Beckham.
DC United's loss to Toronto – who started the day in last place – meant Miami are now rock bottom of the standings.
Miami had 14 shots in the game but again could not take the chances on offer – an issue that is threatening to derail the season. 
Phil Neville's Inter Miami have fallen into last place in the MLS Eastern Conference 
Miami lost 1-0 to Montreal on Saturday night and have won two out of 12 MLS games 
Miami almost got a point late in the match when, in extra time, Nicolas Stefanelli had a shot blocked from the center of the box after teammate Benjamin Cremaschi hit the post with a right-footed effort. But that was as close as Miami came to an equalizer as Montreal held on for the victory. 
Possession was fairly even in the first 45 minutes – hosts Montreal had eight shots as they tried to get an early advantage but none were on target. In fact, Miami keeper Drake Callender finished with just one save.
But he couldn't go anything about Offor's goal early in the second half.
Neville had momentarily lifted the pressure on his shoulders earlier in May with two straight wins against Atlanta United and New England Revolution. But those results may have been a false dawn.
It was a season that promised so much for Miami and Neville – they swooped for Josef Martinez from Atlanta to fill the void left by Gonzalo Higuain's retirement but the striker has only managed three goals to date in 12 games.
Neville and Miami have also made no secret of their desire to bring Lionel Messi to Major League Soccer, as well. 
But with the hundreds of millions on offer from the Saudi league and links of an emotional return to Barcelona that won't go away, why would Messi join Miami now? The perks of life in the United States are a harder sell with a team that keeps losing.
Neville has, at times, looked like he is feeling the pressure. He swore at a reporter last weekend, after the 3-1 loss to Orlando, for interrupting him and then forgot what question he was answering.
Inter Miami co-owner David Beckham could have a tough decision to make over Neville 
Back in March, when the-then Chicago Fire coach Ezra Hendrickson said he exploited Miami's defending from wide play to beat the team 3-2, Neville called his comments 'bulls***', even though Hendrickson appeared to have a point with the manner in how his team scored.
Miami hosts New York Red Bulls next, on Wednesday night. Under the guidance of newly-appointed coach Troy Lesesne, Red Bulls look to be on a bit of a resurgence with seven points in three games before facing Seattle Sounders on Saturday.
That run of form lifted Red Bulls from last place to 12th and a win from the playoff spots. 
It shows Neville and Miami how quickly things can turn around in this league, but it remains to be seen how much time he'll get to try and change the fortune. 


Post source: Daily mail