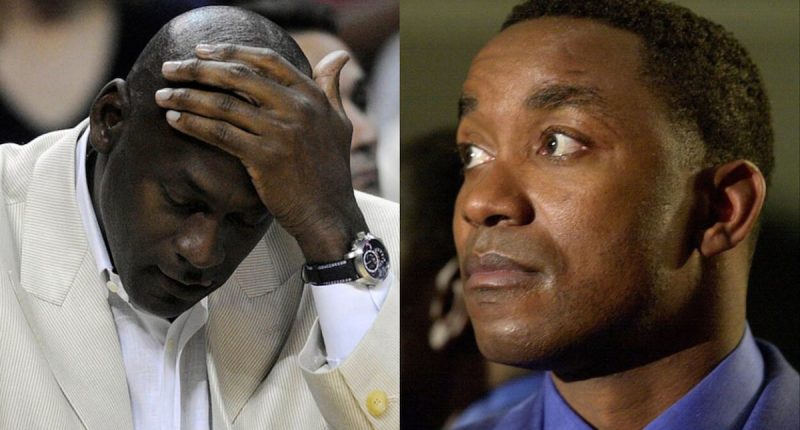 While rivalries are part of sports, Isiah Thomas and Michael Jordan are taking things to an entirely different level. The two men didn't always see eye-to-eye during their playing days, but things have only escalated in retirement. His Airness made some critical comments about Zeke during The Last Dance, and the former Piston hasn't been able to let that go. Since then, he's been talking about His Airness at virtually every turn.
That was certainly true during an appearance on All the Smoke. In fact, the podcast pulled a seven-minute-long clip about Jordan and used it to promote the episode.
During that discussion, Thomas was pretty clear about what he expects from his old rival. And while that clarity is theoretically beneficial, it also suggests that things won't be resolved anytime soon.
Isiah Thomas wants Michael Jordan to publicly apologize or 'let it ride'
At this point in time, virtually every basketball fan is familiar with the current Isiah Thomas-Michael Jordan situation. While that's the reality of two NBA legends getting into a verbal scrap, it also plays into what Zeke expects from His Airness in a potential resolution.
"I just want some people to be honest," Isiah said on All the Smoke. "I got no problem sitting down and talking with anybody. Right? And, as you can see, you know, I live with love, peace, truth. You know? Honesty. Courage. You know, I stand on my square. I'm upright, you know. I'm independent, and I sit in any chair and talk to anybody, right? But some people don't, they ain't be telling the truth. Right? Now, anywhere, anytime, publicly. Don't call me behind the scenes apologizing or asking your friends to apologize, right? You got on national television, and you called me an asshole. And then you said you hated me. You said that on national television."
In Thomas' mind, that reality presents Jordan with two courses of action. He can either make amends or stand behind his words.
Now, if you didn't mean it, get on national television and apologize for it. Now, if you meant it, let it ride as it is.

Isiah Thomas
After that, the conversation touched on a variety of different topics. Isiah talked about how his family was friends with the Jordans and "everybody still cool." He also made reference to how he and Magic Johnson publicly repaired their relationship. Ultimately, though, things came back to the idea that Michael Jordan needs to step forward and clear the air one way or another.
"This man did this on national television," the former Piston said. "Internationally. I have to answer this question, right, in every interview that I sit down and do. You asking me this question. Right? So, now I'm the one who's looking like, 'Oh, why you talking about Jordan? Why you saying this?' when you done put that out there, and now you're sitting at home or on your golf course or doing whatever you do. And now I've gotta answer this BS question. So, if you man enough, … if you meant it, leave it as it is. But if you didn't mean it, then come out and clean it up."
While that position is understandable, everything we know of Jordan suggests that Isiah won't get what he's after
Although there's room for some different takes on the situation — perhaps you feel, for example, that Isiah Thomas should simply drop the issue and move on — it's fair to say that he isn't asking for anything too unreasonable. With that being said, though, he is probably setting himself up for failure.
If we know one thing about Michael Jordan, it's that he takes things personally. While that made him an NBA legend, it can also have some less-than-ideal effects elsewhere.
Take, for example, MJ's relationship with Charles Barkley. If we believe Chuck's side of the story — and, to be fair, his is the only side we hear — Jordan ended their friendship after some on-air criticism of his NBA ownership. Since then, Sir Charles has been willing to discuss the situation and share how he misses his old friend; Mike, however, hasn't addressed it.
In a similar vein, Stephen A. Smith believes that His Airness' NBA ownership has been affected by his larger-than-life status and the Jordan brand. When your name is tied to billions of dollars, it's easy to be overprotective and insulate yourself from criticisms.
Do those situations ring a bell? With all due respect to Isiah Thomas, why would his request to publicly make amends be any different? Even The Last Dance, which gave viewers unprecedented insight into Jordan's thoughts and feelings, was made on the legend's terms. Nothing about his personality or past behavior suggests that he'd be willing to step forward and, for all intents and purposes, apologize.
From both a human and a basketball perspective, it would be great to see Michael Jordan and Isiah Thomas patch things up. Based on Zeke's request and everything we know of MJ, though, it's probably not worth holding your breath.