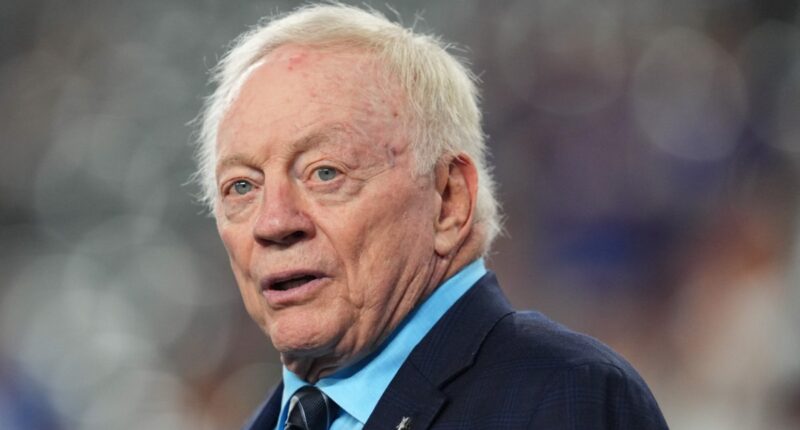 Jim Trotter, a former NFL Network journalist, filed a lawsuit Tuesday against the NFL, accusing the league of discrimination. Trotter, who now works for The Athletic, said he raised concerns about the lack of diversity in the NFL, and he claims that ultimately cost him his job.
In the suit, Trotter attributed racist remarks to Dallas Cowboys owner Jerry Jones and Buffalo Bills owner Terry Pegula. Both Jones and Pegula quickly responded to those allegations.
Jerry Jones calls Trotter's account 'simply not accurate'
According to a report by Pro Football Talk's Mike Florio, Trotter mentioned Jerry Jones made a racist comment during the 2021 Pro Football Hall of Fame Game between the Pittsburgh Steelers and the Dallas Cowboys. 
According to Florio, the complaint (in paragraph 113) alleged, "At one point, Mr. Trotter was speaking to Will McClay, the Cowboy's Vice President of Player Personnel, about the fact that NFL teams tend not to draft many players out of Historically Black Colleges and Universities ('HBCUs') and whether that might be due to the lack of Black people in personnel decision-making positions — i.e. general managers. Mr. Jones joined the conversation, and Mr. Trotter asked why teams have so few Black decision makers."
In the following paragraph, the complaint read, "In response to Mr. Trotter, Mr. Jones dodged the question and stated that players get a large percentage of league revenue and the majority of players are Black. In effect, Mr. Jones was stating that Black people should 'be happy for what they have' and not seek further advancement of their rights, positions in society, or equality."
Paragraph 116 states that Jones said, "If Blacks feel some kind of way, they should buy their own team and hire who they want to hire."
Jones responded to the allegations in a statement, saying, "Diversity and inclusion are extremely important to me personally and to the NFL. The representation made by Jim Trotter of a conversation that occurred over three years ago with myself and our V.P. of Player Personnel Will McClay is simply not accurate."
According to Yahoo! Sports, the suit accuses Pegula of making a racial comment after the Bills owner was asked about player protests regarding social injustice.
Pegula allegedly responded, "If the Black players don't like it here, they should go back to Africa and see how bad it is." Trotter said he brought that comment to the league's attention, but the NFL never did anything about it.
Pegula vehemently denied making that comment, releasing the following statement:
"The statement attributed to me in Mr. Trotter's complaint is absolutely false," Pegula said. "I am horrified that anyone would connect me to an allegation of this kind. Racism has no place in our society and I am personally disgusted that my name is associated with this complaint."
Someone is clearly lying here. It sure looks like the NFL is about to heat up on and off the field.