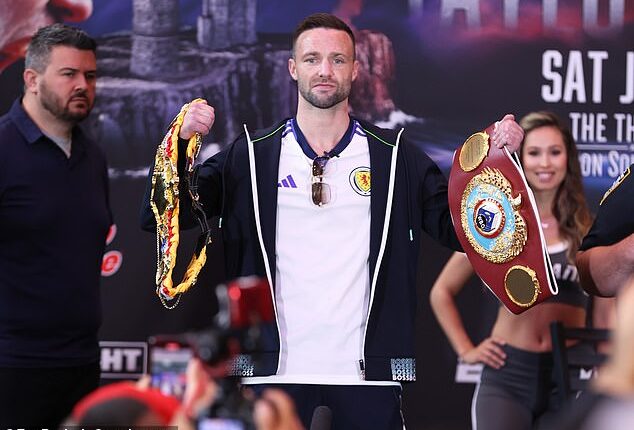 Josh Taylor weighs in SIX POUNDS lighter than Teofimo Lopez ahead of their Madison Square showdown and insists his American opponent is up against the 'king of the division'
Josh Taylor looked in great shape as he weighed in ahead of Saturday's title fight
The Scotsman weighed in six pounds lighter than American Teofimo Lopez
Taylor warned Lopez that he is facing a huge challenge at Madison Square arena 
Josh Taylor has weighed in six pounds lighter than death-threatening world title challenger Teofimo Lopez, who scaled exactly at the 140 lb light-welter limit.
The odds on a huge Tartan Tornado victory shortened still further with this proof of his hard training and prime fitness.
Lopez, who is coming up a division to seek a world title at a second weight, looked less finely tuned and may have had more difficulty making the weight.
The hostility between the two was still evident on this eve of battle in the Hulu Theatre at the fabled Madison Square arena.
Saturday's title bout marks Taylor's first return to the ring since his controversial victory over England's Jack Catterall almost 16 months ago.
Josh Taylor looked in terrific shape ahead of Saturday's title showdown at Madison Square Arena
American Teofimo Lopez scaled exactly at the 140 lb light-welter limit on Friday in New York
Taylor has recognised that he fell below his usual standards on that evening in Glasgow but has vowed to make his mark against Lopez in America this weekend.
'We could both go on our previous performances and say 'you're only as good as your last fight' but I believe that's a lot of s***,' said Taylor.
'I prepared c*** for the last fight so I performed c***. I believe he was the same (when winning by a split decision against Sandor Martin last December). He took his eye off the ball and he performed c*** as well.
'We've both got the bit between our teeth here. He's up against the king of the division. I know he's a good fighter. The version that beat (Vasyl) Lomachenko (in October 2020) is a very good fighter and that's the version I'm preparing for.
Taylor (pictured) admitted he wasn't at his best in his last victory over Jack Catterall
'It's all about your preparation. This time I've prepared diligently and to the best of my ability, and you'll see the best of me on Saturday night.'
Taylor admits he is living out a childhood dream in topping the bill at the Garden.
'I've been here 10-12 days now,' he said of his preparations in New York. 'I came over nice and early to get used to the heat.
'I was expecting the heat but it's not been so hot. It's been ok for me being Scottish, used to the cold weather, so I haven't had to adjust too much.


Post source: Daily mail