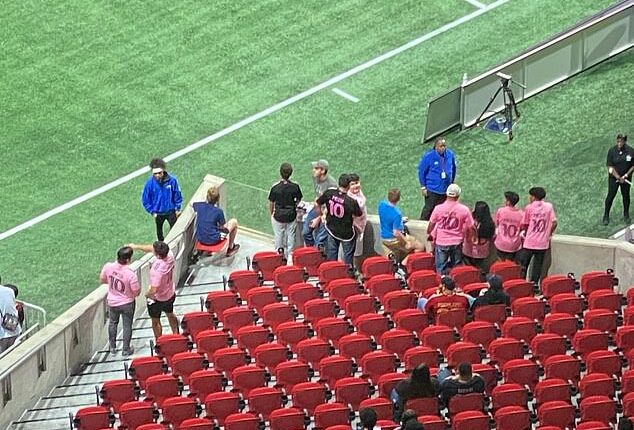 Lionel Messi is set to miss his first MLS game since arriving at Inter Miami 
Fans spoke to DailyMail.com to detail their lengthy journeys to see him in Atlanta
DailyMail.com provides all the latest international sports news 
Thousands of Lionel Messi fans have been left distraught after traveling across the country to see their hero play in Atlanta – only to learn that he has stayed back in Miami and will miss the game.
Ahead of the highly-anticipated – and sold-out – MLS fixture between Atlanta United and Inter Miami, thousands of pink Messi jerseys were seen around the stadium, but their favorite player was nowhere to be seen.
DailyMail.com spoke to fans outside the 73,000-seater Mercedes-Benz Stadium who had traveled thousands of miles in a bid to see Messi in the flesh, only to learn that he will miss his first MLS game since joining Inter Miami.
One family drove 10 hours overnight from South Florida to be at the game in Atlanta, while most fans had paid hundreds of dollars for the privilege of a ticket.
Until Saturday morning, it was anticipated that Messi would at least play some part in the match, but images then surfaced online of him watching his son's soccer game for the Inter Miami academy. 
Lionel Messi fans paid hundreds of dollars for pitchside seats to see their hero in Atlanta
Messi jerseys were everywhere apart from on the field itself in Atlanta, leaving fans gutted
Tickets to the MLS fixture sold out weeks ago, with Atlanta United staff even putting additional temporary seating in place to deal with the huge demand.
In the wake of news about Messi's absence, seat prices plummeted, with resale tickets spotted online for as low as $40 in the hours leading up to the game.
Messi picked up a knock while on international duty with Argentina, missing their second game against Bolivia, but he practiced as normal on Friday and coach Tata Martino was coy over his involvement in the upcoming match.
Additional black seating was being used in Atlanta to deal with the huge demand for tickets
Fans stood in long queues to get into the sold-out stadium, but Messi was back in Miami
Messi was spotted watching his oldest son, Thiago, train Saturday morning – missing the game
Messi is set to miss an Inter Miami game for the first time since arriving in the States
Some concerns had also been raised about the turf field in Atlanta, given it would have been the first artificial surface Messi, 36, had played on since touching down in the United States.
But until Saturday morning, fans had traveled to Atlanta as planned, confident that they would see their man play at least a small part in what is a huge game for Inter Miami's playoff hopes.
After being dead and buried at the bottom of the league's Eastern Conference, three wins and a draw in Messi's four MLS games have left Miami just six points off the playoffs with eight matches to play.


Post source: Daily mail