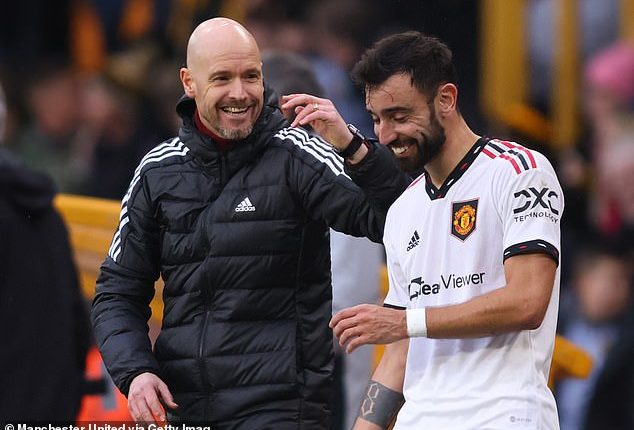 Erik ten Hag has quickly come to appreciate the leadership qualities of Bruno Fernandes as he rebuilds Manchester United into a trophy-winning force.
With United's regular captain Harry Maguire dropping down the pecking order, Fernandes has taken the armband in the majority of United's matches this season.
The Portuguese star sets high standards on the pitch – but it turns out this has always been the case.
Erik ten Hag has been impressed with the leadership qualities shown by Bruno Fernandes
The Portuguese star is enjoying an excellent season having worn the captain's armband often
A former coach of Fernandes at Sporting Lisbon, Jose Peseiro, has revealed how the playmaker practically had to be dragged off the training ground every day.
Indeed, it reached the point where Peseiro was worried not necessarily about Fernandes getting exhausted from all the extra practice, but his team-mates suffering from trying to keep up.
Fernandes pictured in the colours of his former club Sporting Lisbon
'He's a true captain. Incredible player with high demands, and not only in the matches – in training, in meetings, at team meals,' Peseiro told the Daily Mirror.
'He showed everybody the maximum motivation that was demanding, he spoke to everybody to make sure we would improve.
'On the pitch, he always wanted to be training. After training, he would stay on the field and convince three or four more, and a goalkeeper, to do more training.
'Sometimes we would do complementary training, but then even after that Bruno Fernandes would stay on the pitch with some team-mates and be with them shooting, or taking free-kicks or working on things.'
Unfortunately, Fernandes' obsession with improvement would sometimes lead to friction.
'Sometimes I would fight with him – I'd say, 'take care, go for a rest, because you can't endure it', recalled Peseiro.
'I always knew he was a strong guy, but some of the others, sometimes they could not take it, they'd need to rest.
'Sometimes he could be a risk for other players because they could not do the same like he did – he always wanted to drive high standards.'
Fernandes was in the Sporting team when Peseiro returned to the club for a second spell in July 2018.
His former coach Jose Peseiro has spoken about the extra work Fernandes put in each day
It was a turbulent time at the club, with many big names cancelling their contracts after furious supporters invaded the training ground.
A group of 50 or so fans attacked players and staff in May 2018 after the club missed out on Champions League football on the final day of the season.
Peseiro's predecessor Sinisa Mihajlovic was sacked after just nine days following a change of leadership at the club.
Peseiro's second spell lasted a mere 14 games and Fernandes was sold to United in January 2019 for £67.6million.
Harry Maguire is officially United's captain but he has spent much of the season on the bench
Fernandes has been excellent this season, scoring six times and contributing a further six assists, his game flourishing again when Cristiano Ronaldo isn't in the team.
Sometimes his dedication can rub colleagues up the wrong way, such as when he clashed with Antony on the pitch during United's recent 1-1 draw at Crystal Palace.
The £85million Brazilian winger appeared to call Fernandes a 'son of a b****' during a heated exchange. 
Ten Hag played it down, saying: 'I think that can happen. They are both players who play with the heart and, when they bring that in the game, they are on their best so it's always a kind of balance.
Manchester United's Antony appeared to goad his own team-mate during their recent game
The Brazilian winger was seen calling out to Bruno Fernandes in their game with Crystal Palace
The two players spoke with eachother in the first-half – prior to Fernandes' opening goal
'And always between players, sometimes emotions flare up but I think, in the second moment, they are already good with each other so that is not a problem. I think definitely the players are not frustrated with him.'
United entertain Reading in the fourth round of the FA Cup on Saturday evening.


Post source: Daily mail