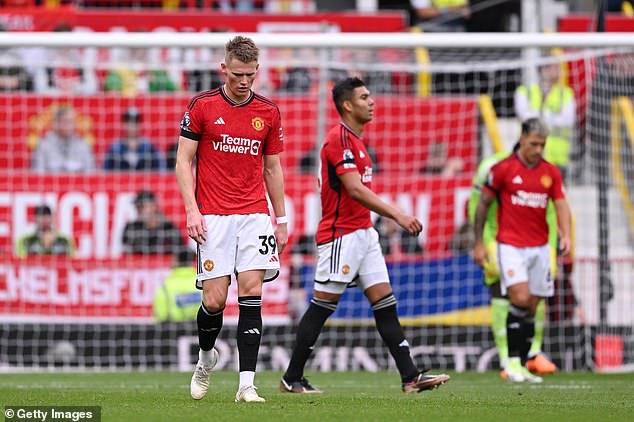 Manchester United have denied reports that their players were involved in a furious dressing room bust-up in the wake of their 3-1 loss at home to Brighton on Saturday.
The Red Devils continued their turbulent season that has been beset by problems on and off the field – with Erik ten Hag already involved in a feud with Jadon Sancho over his training performance.
The campaign has also seen discontent from the supporters over the Glazers' failure to sell the club as takeover talks drag on, with the toxic atmosphere seemingly impacting on the players after three defeats in their first five games.
The dismal defeat to the Seagulls at Old Trafford meant they now drop down to 13th place in the Premier League, with club legend Gary Neville claiming the club had a 'culture of greed and ill discipline' that was brought about by the Glazer family's ownership.  
The Sun have now claimed that in the aftermath of the latest defeat, four stars were involved in a dressing room bust-up.
Manchester United have denied reports that players were involved in a dressing room bust-up
Erik ten Hag's side have been hit by a turbulent start to the season and have lost three games
Your browser does not support iframes.
The report alleges that captain Bruno Fernandes was one of the main high-profile stars involved after confronting team-mate Scott McTominay.
Defenders Lisandro Martinez and Victor Lindelof – who both played 90 minutes together – are also said to have 'lost it with each other', with manager Ten Hag 'trying to restore order' as a post-match inquest began.  
However, Manchester United have refuted the claims of the report when contacted by Mail Sport.  
United are also without winger Antony, who is taking time away from the first team after being accused of assault in Brazil. Meanwhile, the club also decided to loan Mason Greenwood to Getafe after charges of attempted rape and assault against him were dropped.
Pundit and former United defender Neville had already alluded to tensions in the dressing room this week when he suggested unhappy players could be 'bugs' who are creating 'discomfort and uncertainty' among Ten Hag's ranks. 
The report claims captain Bruno Fernandes confronted team-mate Scott McTominay (R)
It also alleges Victor Lindelof (L) and fellow defender Lisandro Martinez 'lost it with each other'
United's season has also seen tensions arising over the futures of both Jadon Sancho (left) and Harry Maguire (right)  
'The only thing I would say is, how popular is Sancho in the dressing room? How popular is Maguire in the dressing room?' Neville said in a video posted to his TikTok account. 
'He's got some bugs in there that we don't know from the outside what discomfort and uncertainty is being created on the inside. 
'You've got a player who's changing probably in the first team dressing room but is obviously over with the academy. 
'You've got Harry Maguire who was captain of these players now 12 months ago who is now almost been alienated to the third, fourth, fifth centre-half. 
'So he's [Ten Hag] got some situations in there which I don't know the damage that that is having but in terms of his work on the pitch – I don't think Erik ten Hag will change.'
Ten Hag has already faced challenges with one player after he dropped Sancho for their 3-1 loss to Arsenal before the international break. The player has now been ordered to stay away from first team training over his social media post in response to being axed for the game. 
The Dutchman said he had not picked the England winger over his 'training performance', before the player hit back and said his claims were 'completely untrue' – insisting he had been made to be a scapegoat.
Sancho was involved in a feud with Ten Hag after he posted a tweet hitting back at claims from the Dutchman over his training performances
Sancho will remain banished until he apologies to Ten Hag, who is believed to be furious
'Jadon, on his performances in training we did not select him,' Ten Hag said after the Arsenal loss.
'You have to reach a level every day at Manchester United and we can make choices in the front line. So for this game he was not selected.' 
Sancho immediately sought to clarify his comments, claiming they were 'completely untrue', writing: 'Please don't believe everything you read! I will not allow people saying things that is (sic) completely untrue, I have conducted myself in training very well this week.
'I believe there are other reasons for this matter that I won't go into, l've been a scapegoat for a long time which isn't fair! 'All I want to do is play football with a smile on my face and contribute to my team.
'I respect all decisions that are made by the coaching staff, I play with fantastic players and (am) grateful to do so which I know every week is a challenge.
'I will continue to fight for this badge no matter what!'
After Sancho returned to Carrington for training the following week, the player was said to have held talks with Ten Hag over his post, before United released a statement saying he would train alone for the time being.
It read: 'Jadon Sancho will remain on a personal training programme away from the first-team group pending resolution of a squad discipline issue.'
IT'S ALL KICKING OFF! 
It's All Kicking Off is an exciting new podcast from Mail Sport that promises a different take on Premier League football, launching with a preview show today and every week this season.
It is available on MailOnline, Mail+, YouTube , Apple Music and Spotify
Your browser does not support iframes.


Post source: Daily mail