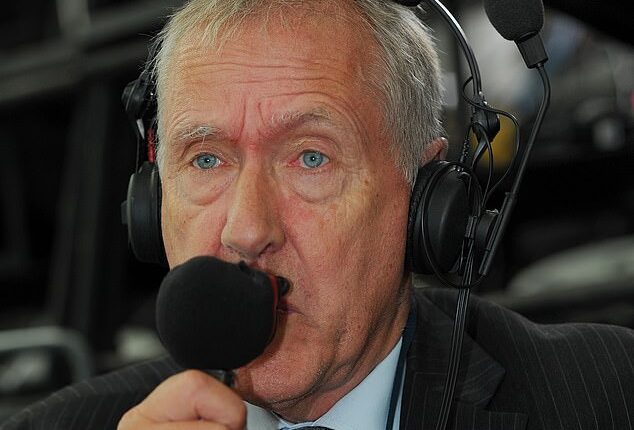 Martin Tyler did not cover a Premier League trophy lift for the first time in 20 YEARS on Sunday because of a sore throat… with the 77-year-old hoping to cover the league's final day, FA Cup final and Champions League final
Martin Tyler, 77, missed out on commentating on the Premier League trophy lift 
Manchester City's win was the first such occasion Tyler did not cover in 20 years
Sky Sports' lead commentator is aiming to recover for several upcoming finals 
Sky Sports' lead commentator Martin Tyler missed covering a Premier League trophy lift for the first time in 20 years due to a sore throat.
The 77-year-old had been due to commentate on Manchester City's 1-0 win over Chelsea and the subsequent title celebrations at the Etihad Stadium.
But he was forced to stand down, with Rob Hawthorne replacing him.
Tyler soldiered on despite the sore throat when commentating on Brighton's 3-0 win at Arsenal the previous weekend.
However, his symptoms worsened during the week and he opted to stand aside.
Martin Tyler did not commentate on a Premier League trophy lift for the first time in 20 years
Sky Sports' lead commentator, 77, missed Man City's title celebrations due to a sore throat
Meanwhile, he has worked at Sky for more than 30 years and has no intentions of quitting yet
He is now hoping to return to work for Sky's coverage of the final day of the Premier League season on Sunday.
Tyler is also keen to commentate on the FA Cup final and Champions League final for international broadcasters.
Mail Sport reported earlier in May that Tyler has no intention of following Jeff Stelling and top pundit (and Mail Sport columnist) Graeme Souness, who announced his departure in April, out the exit door at Sky.
Tyler demonstrated his remarkable work ethic by commentating on three live Premier League games in the space of four days for Sky in May and is determined to carry on next season.
Stelling and Souness both quit their roles at Sky, with neither man retiring but stepping away from working with the broadcaster.
Tyler, however, is determined to stay on for as long as he can as he continues to build his legacy as one of the company's greatest ever commentators.
He has been with Sky as for over 30 years and is prepared to enter another year with the microphone when the new season starts this summer.
Sky Sports, meanwhile, are planning on making an internal appointment to replace Jeff Stelling as host of Soccer Saturday next season after the veteran presenter announced his departure on last weekend's programme.


Post source: Daily mail