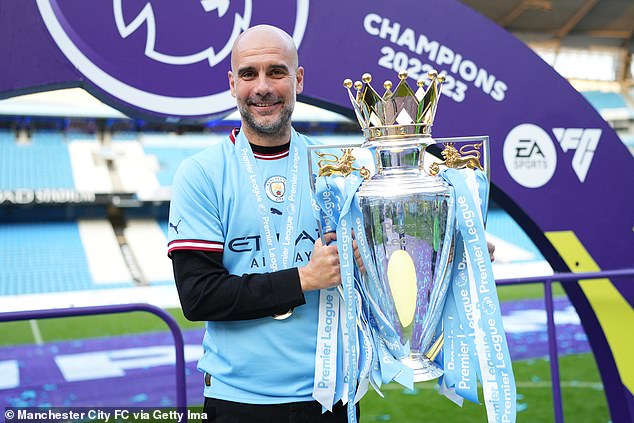 Talking to Pep Guardiola on Sunday night, he kept reiterating the point that Manchester City need to win the Champions League to be named alongside the greats. Perhaps he is already starting to mentally prepare his team for the showdown with Inter Milan in Istanbul but I don't agree.
Anyone outside the club who says this City squad isn't one of the greats is being contrary. I watched the players celebrate their fifth title in six years and it made me think of the hurdles they have had to clear along the way to get here.
They twice held off a magnificent Liverpool team: who is to say they will again reach the levels they did when they got to 97 points (2019) then 93 points (2022)? The Arsenal squad that has fallen short in this campaign already have more points (81) than Arsene Wenger's double-winners of 1998 (78).
Guardiola said something that really struck me. Imagine if he was starting the job tomorrow and he was told he had to win five titles by 2029 – that task would be almost impossible to comprehend, never mind achieve. 
So, no, European success isn't essential. These men are already giants.
Pep Guardiola won his fifth Premier League title as Manchester City manager on Sunday
Guardiola (middle) stressed at full-time that his City side must win the Champions League to be considered great
This Manchester City will be considered great regardless of whether they win the Champions League or not
A privileged meeting with Paolo Maldini 
Never meet your heroes, so the saying goes. Let me tell you that saying couldn't be further from the truth. I met Paolo Maldini in Milan last week. 
I'm a pretty confident guy and can talk to most people but I was left star struck when he came over to say 'hello'. 
The greatest defender to ever play football is also an outstanding man. What a privilege it was to be in his company.
Meeting Paolo Maldini (right) in Milan last week was a brilliant moment and what an outstanding man he is
We'd give this City team a run for their money 
There has been a lot of debate recently comparing Manchester United's Treble winners of 1999 and the City boys seeking to emulate them. Who would win if the two teams played each other? It's impossible to say, though I know Roy Keane and Peter Schmeichel have strong views on it!
As a bit of fun, someone asked me how the title-winning squad I was part of in 2012 would do against the class of 2023. Answer? I'm not sure we would get near them in terms of how well they function as a team of moving parts.
Our group had brilliance in Sergio Aguero, class with David Silva, leadership with Vincent Kompany and other great characteristics. 
Micah Richard's' (left) 2012 Manchester City team featured true stars such as Sergio Aguero (right)
This current crop of City stars would definitely give us a good test if we played each other
If someone was missing, though, we weren't so slick. Pep Guardiola alters his team, by contrast, and nothing changes. We'd give it our best but it would be tough!
Leicester's issues have been long in the making
Leicester had me worried for a long time and, sadly, their fate could be all-but sealed on Monday if they lose at Newcastle. 
I wondered how on earth they could replace the leader of their dressing room, Kasper Schmeichel, after selling him to Nice and then letting Youri Tielemans' contract situation drift. 
He was one of eight players whose deals were due to expire. Not addressing that was a huge issue. 
Letting Kasper Schmeichel leave in the summer saw Leicester lose one of their biggest leaders
Steve Cooper must be in manager of the year conversation 
I went to the City Ground earlier in the season just to watch a game as a spectator and I couldn't believe the experience. 
I wanted to get a feel for Nottingham Forest and I was blown away by the atmosphere inside the stadium. It certainly helped them get over the line.
What a job Steve Cooper has done, another man who must be spoken about in the conversation for Manager of the Year. 
Nottingham Forest boss Steve Cooper should be considered for the Premier League's manager of the year award
Cooper (left) has come under criticism at times but has led Forest to Premier League survival
People criticised the way they signed so many players but he's made it work. The faith he's put in the outstanding Morgan Gibbs-White has been richly-rewarded.
Roy's spot-on with his Ferguson verdict 
A telling wink from Roy Keane during work on Sunday when news came through that Evan Ferguson had scored again for Brighton. 'Of course he's good, he's Irish!' Roy said. We certainly agree on this. 
I've been watching Ferguson since he broke into the team. He's playing with composure way beyond his years. This is one exciting young man. 


Post source: Daily mail