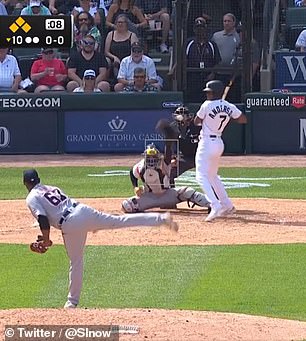 MLB umpire is drilled in the FACE by 96.4 mph fastball to gift Chicago White Sox a bizarre walk-off win against the Detroit Tigers
Detroit's Jose Cisnero was pitching when his fastball hit Cory Blaser in the face

Blaser was helped back on his feet by White Sox players once the game ended 

DailyMail.com provides all the latest international sports news
Yoán Moncada scampered home on a 10th-inning wild pitch that knocked down MLB umpire Cory Blaser, sending the Chicago White Sox to a bizarre 2-1 walk-off victory over the Detroit Tigers on Saturday.
All three runs in the game were scored on wild pitches.
Chicago's Romy González opened the 10th inning with a sacrifice-fly against Tigers reliever Jose Cisnero (2-1), moving automatic runner Moncada to third.
After Yasmani Grandal bounced to second and Gavin Sheets was walked to first, Jake Burger was hit by a pitch. It was originally ruled as a foul ball, and then the call was overturned after a challenge. Tim Anderson was at the plate when Cisnero threw a first-pitch, 96.4 mph fastball that hit Blaser right in the face mask.
Blaser immediately feel backwards and as he lay on his back play continued with Moncada scampering home and Cisnero attempting to chase down the ball while his catcher dealt with the umpire at his feet. 
The Chicago White Sox got help from the umpire off a walk-off win against Detroit on Saturday
Chicago's Yoann Moncada scored the game-winning run off the pitch that hit Blaser in the face
Blaser needed Anderson to help him up. 
'First time that happened to me,' Moncada said through an interpreter. 'It was a very weird thing.' 
'Never seen that,' White Sox pitcher Dylan Cease said. 'Just hope he's OK. Took 96 (mph) straight to the facemask.'
The umpiring crew declined comment on the incident. Major League Baseball said Blaser is undergoing evaluation.
Tigers catcher Eric Haase said the call was for a slider on the final pitch, but Cisnero heard sinker.
'It looked like he got crossed up or didn't catch it,' Tigers manager A.J. Hinch said. 'Umpire goes down. The ball came toward the dugout, and they got a walkoff win. It looked like there was some sort of miscommunication.'
Blaser was helped back on his feet, as soon as Saturday's game in Chicago ended in the 10th
The MLB said Blaser is undergoing evaluation after Saturday's game (seen at Fenway in April)
Andrew Benintendi had two hits for the White Sox, who have won three of four. Reynaldo López (1-4) threw a scoreless 10th.
Zach McKinstry tripled and scored for the Tigers.
Benintendi singled, stole second, advanced on a wild pitch and scored on another Michael Lorenzen wild pitch in the fourth. Lorenzen struck out three in the inning.
Another wild pitch brought in the tying run in the sixth. McKinstry led off with a triple to the right-field fence and scored on Cease's wild pitch.
'You don't see many of them, certainly not in a low-scoring game when everything matters,' Hinch said about the wild pitches scoring runs. 'It happened today. You stick around long enough, you're going to see a lot of things. It's definitely a bad way to lose.'
Liam Hendriks played for a second time this year after returning from non-Hodgkin lymphoma
Liam Hendriks pitched a 1-2-3 seventh inning in his second appearance of the season after returning from stage four non-Hodgkin lymphoma. 
He motioned that he wanted the ball after his first strikeout of the season and returned to the dugout to loud cheers.
'It was clean,' said Hendriks, who put the ball in his bag after Saturday's home win.
'Deeper counts than I would have liked. It's all working back.'
Hendriks was charged with two runs in an inning against the Angels in his first appearance Monday. Neither appearance was a save opportunity for the closer.
[ad_2]

Post source: Daily mail