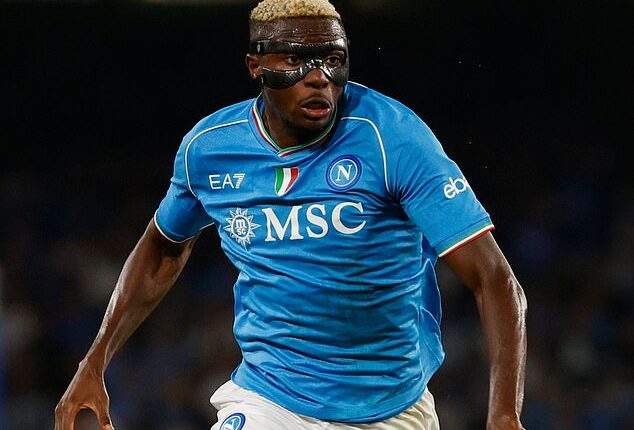 Napoli's TikTok appeared to deride striker Victor Osimhen for missing a penalty 
Osimhen's agent threatened to sue the club, who said no offence was intended 
Mail Sport's new WhatsApp Channel: Get the breaking news and exclusives here 
Napoli striker Victor Osimhen has broken his silence on the controversial videos posted on the club's official TikTok account that appeared to openly mock him.
Osimhen was the subject of two offensive clips shared on the popular social media app, with the first seemingly deriding him for missing a penalty late last month.
The second then labelled him a 'coconut' and has been viewed as a racial slur.
His agent threatened to sue the Serie A side in the wake of the fallout and Napoli responded by insisting that no offence was intended, though they did not apologise.
Napoli's social media executive has since stepped down from his role.
Napoli striker Victor Osimhen has broken his silence on the club's controversial TikTok videos
Two clips posted to the club's official account derided the striker, sparking a fierce backlash
Osimhen, however, has called for unity and thanked supporters for their kindness.
A statement released on Sunday afternoon said: 'Coming to the city of Naples in 2020 was a wonderful decision for me. The people of Napoli have shown me so much love and kindness, and I will not allow anyone to come between us.
'The passion of the people of Naples fuels my fire to always play with my heart and soul, and the love for the badge is unwavering as I wear it with pride.
'The accusations against people of Naples are untrue. I have a lot of friends that are Napolitans and have become part of my family and everyday life. I appreciate Nigerians and everyone for leading their voices to support and reach out to me.
'I'm forever grateful. Let's support unity, respect and understanding. FORZA NAPOLI SEMPRE.'
The 24-year-old reacted to the incident by deleting all but one reference to Napoli on his social media accounts and again refused to take a penalty at the weekend.
Osimhen received a private apology from Napoli directors on Wednesday but is upset they did not make amends publically, according to Corriere dello Sport. 
Osimhen was mocked for appealing for a penalty against Bologna and missing the spot-kick
After he pulled his effort wide from 12 yards, the TikTok videos were posted and condemned
Napoli's social media executive, Alessio Fortino, took to Instagram to confirm his departure
The forward notably refused to celebrate after scoring against Udinese and Lecce. 
Meanwhile, Alessio Fortino, previously Napoli's social media executive, confirmed his departure from the club in a statement posted on his personal Instagram page.
'Today, after 805 days, my professional adventure with SSC Naples ends,' he wrote.
'For many this job would be comparable to a dream, for me it was simple daily reality: a reality built on commitment and fueled by the desire to learn and play.
'I cannot help but express my deepest gratitude to all the colleagues, collaborators, partners and supporters I've met along for making this experience so special.
'Leaving the company with a baggage of great memories and an excitement for the new adventures that lie ahead.
'Thanks again for everything and see you soon! Alessio.'
IT'S ALL KICKING OFF! 
It's All Kicking Off is an exciting new podcast from Mail Sport that promises a different take on Premier League football, launching with a preview show today and every week this season.
It is available on MailOnline, Mail+, YouTube , Apple Music and Spotify
Your browser does not support iframes.


Post source: Daily mail