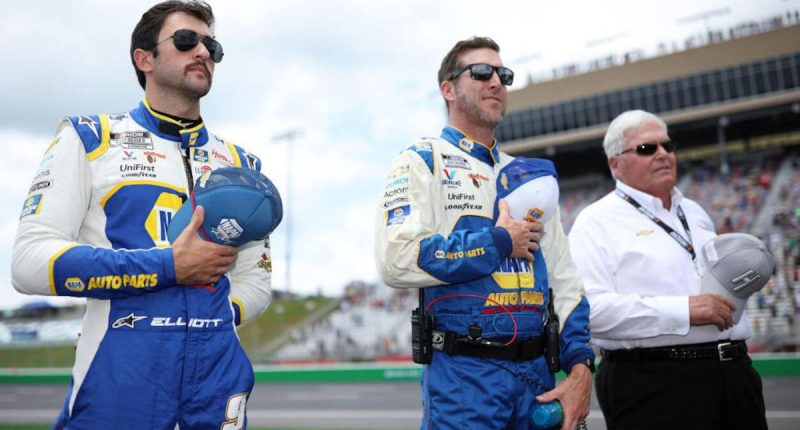 In one of the seemingly most hard-hitting penalties in NASCAR history, the sanctioning body threw the proverbial book at Hendrick Motorsports this week for a rules violation discovered during an inspection last weekend at Phoenix Raceway.
In question was what NASCAR deemed an illegal modification to the vendor-supplied hood louvers — aka vents — on all four Hendrick cars, which NASCAR believes stood to gain an aerodynamic advantage over the competition had Cup Series officials not confiscated the parts.
Although NASCAR discovered the irregularity a full two days before the race and didn't allow the Hendrick cars to compete outside of the rulebook, it didn't stop the sanctioning body from handing down a fairly harsh punishment that included a four-race suspension and $100,000 fine for all four Hendrick crew chiefs. In addition, NASCAR issued major points penalties to all four teams and three of the four Hendrick drivers (injured Chase Elliott was exempt because he wasn't the No. 9 team's driver at the time of the infraction).
As a result of the organization's apparent rule-bending, Hendrick driver Alex Bowman dropped all the way from first in the standings to 23rd while teammates William Byron and Kyle Larson took a precipitous tumble of their own.
So, will NASCAR's decision to make an example of Hendrick Motorsports — which, for the record, denies any wrongdoing with the suspect parts — be enough to stop teams from trying to sidestep the rules in the weeks, months, and maybe even years to come?
In all reality, Hendrick Motorsports won't suffer that much from recent NASCAR penalties
While the penalties on Hendrick Motorsports were in no way small or insignificant, it's still hard to make a case that they were all that impactful with regard to the big picture.
Sure, a total of $400,000 in fines would be a lot of money to most people, but is it really a lot of money to Hendrick Motorsports — the most powerful, well-staffed, well-funded organization in NASCAR? The answer is probably not, especially when you consider the hundreds of millions of dollars the company rakes in every year in race earnings and, of course, sponsorship dollars.
Then, there's the question about the points penalty. Stripping Kyle Larson, William Byron, and Alex Bowman each of 100 race points and 10 playoff points sounds like a lot, but does it really matter all much when you stop and consider that all these drivers need to do to qualify for the playoffs is simply win a race?
Byron has already been to Victory Lane twice in 2023, so he's in no matter what the future holds, and both Bowman and Larson have been easily strong enough out of the gate to safely assume that it's only a matter of time before they each finish a race P1 on the leaderboard. When that happens, they — like Byron — will be guaranteed entry into the playoffs, thereby rendering this week's points penalty virtually meaningless. 
So much for teaching the Hendrick bunch a lesson or ensuring that the punishment for pushing the envelope too far serves as a wake-up call to the entire Cup Series garage. As meaningful as the penalties against Hendrick Motorsports might seem at face value, one could argue they actually amount to little more than a slap on the wrist — and everyone, not least of all Hendrick Motorsports' drivers, crew chiefs, and top executives — knows it.
Only one NASCAR punishment is consequential enough to cut down on the 'crimes'
So what kind of punishment would it take to make NASCAR Cup Series teams unwilling to ever cheat again?
I'll tell you: Refuse to let any driver or team caught breaking the rules be part of the playoffs.
Yes, you read that correctly, and no, I'm not writing in jest or using hyperbole. If NASCAR really wants to send the loudest possible message and hit transgressors where it hurts the most, just declare them championship-ineligible at the moment they're found guilty of their wrongdoing (or after they fail to get NASCAR's ruling overturned on appeal).
The amount of money and exposure that drivers and teams gain each year just by being a part of the original 16-driver playoff field has a major effect on an organization's bottom line, morale, and ability to court sponsors for future seasons. Take that all away, and some teams are going to truly be hurting.
Sadly, though, in racing — just like with life in general — it sometimes takes considerable pain and suffering before true change can come about. If NASCAR wants to make teams too scared to cheat, the sanctioning body must go big or go home. Need proof? Just yesterday — only two days after announcing the Hendrick penalties, NASCAR ejected Kyle Busch's car chief from the Atlanta Motor Speedway garage after Busch's No. 8 Richard Childress Racing Chevrolet flunked inspection not once but twice.
Yeah, so much for anyone thinking that NASCAR laying down the law, so to speak, on Hendrick left any competitors shaking in their boots over what might happen if they dabble in gray or forbidden areas. No, it's going to take something of much greater consequence than an ejection, a fine, a suspension, or even a points penalty to get everyone's attention.
And until NASCAR realizes this and starts banning drivers and teams from the playoffs upon their first offense in the inspection line, all this funny business and rule skirting will continue — likely forever.