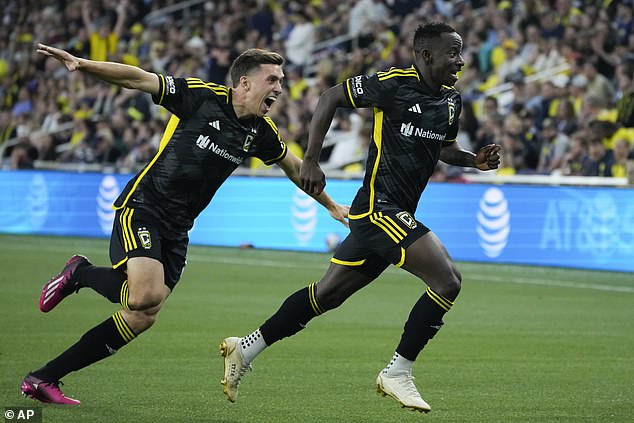 Nashville SC comes from behind with three second-half goals to beat the Columbus Crew… after former Manchester City youngster Yaw Yeboah had netted MLS goal-of-the-season contender inside two minutes
Yaw Yeboah's second-minute screamer from 25 yards out was masterful 
But Nashville SC clawed their way back and won the game at home Sunday 
DailyMail.com provides all the latest international sports news 
A thunderbolt of a goal from ex-Manchester City prospect Yaw Yeboah was not enough for the Columbus Crew to down Nashville SC in Sunday's MLS matchup.
Just two minutes into the match, Yeboah staked Columbus (5-6-3) to a very early lead when he took a pass from Cucho Hernández and scored for a second time this season with a masterful shot from around 25 yards out. 
The powerful shot is a surefire candidate for Goal of the Season as it screamed past keeper Joe Willis and slotted into the top right corner.
Hernández joined Federico Higuaín (2017) as the only Crew players with assists in four straight matches. 
But Fafà Picault, Teal Bunbury and Hany Mukhtar scored second-half goals and Nashville SC rallied to beat the Columbus Crew 3-1.
Nashville (8-3-4) has won four straight at home for the first time. The club had three previous three-match win streaks but finished in draws the next time out all three times.
Yaw Yeboah scored a masterful goal to give Columbus Crew an early lead on Sunday night
But Nashville SC ultimately prevailed – bagging three goals in the second half to win 3-1
Picault scored the equalizer for Nashville, using an assist from Mukhtar in the 56th minute to notch his fourth goal.
Bunbury put Nashville on top in 80th minute. Daniel Lovitz picked up an assist on Bunbury's second goal of the season.
Mukhtar put the finishing touches on the comeback with an unassisted goal in the seventh minute of stoppage time. The reigning MVP has nine goals and seven assists this season. He has had a hand in 78 goals since the start of the 2021 season, 20-plus more than any other player in the league.
Yeboah's goal was quick but nowhere near the club record. Justin Meram has that, scoring 9 seconds into a 2015 playoff match against the New York Red Bulls. It also remains the quickest goal scored in playoff history.
Nashville's Hany Mukhtar bagged the third goal of the night to seal his side's victory
Joe Willis saved five shots for Nashville, all in the second half. Patrick Schulte had seven saves for the Crew, including four in the first half.
Nashville evens the series at 2-2-2 with its second straight win. The club took sole possession of second place in the Eastern Conference, five behind FC Cincinnati.
The Crew lost only two of its first 14 road matches last season but has gone 1-7-2 away from home since then.
Columbus returns home to host the Colorado Rapids on Wednesday. Nashville travels to play FC Dallas on Saturday.


Post source: Daily mail