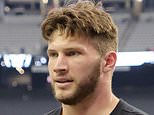 New Orleans Saints star Foster Moreau reveals he is in full remission from cancer: 'I will continue to live my life as God intended'
New Orleans Saints tight end Foster Moreau is in full remission from Hodgkin's lymphoma after being diagnosed with the disease in March.
The 26-year-old wrote on Twitter: 'After a few tumultuous months, I've been blessed with the news that I am in full remission from Hodgkin Lymphoma! 
'I'm so grateful to everyone who reached out to offer their love and support; our prayers were answered. From here I will continue to live my life as God intended.'
He initially found out about his diagnosis while undertaking a medical with the New Orleans Saints.  
But the player promised to 'go kick this thing's a**' before returning to the league. 
Back in May, Moreau signed a three-year, $12m deal with the Saints despite still fighting the disease. 
Hodgkin's lymphoma is a type of cancer 'that affects the lymphatic system, which is part of the body's germ-fighting immune system. 
Upon being diagnosed, Moreau wrote on social media: "Through somewhat of a miraculous process, this Free Agency period has been life changing for me.
'During a routine physical conducted by the Saints medical team down in New Orleans, I've come to learn that I have Hodgkin's Lymphoma, and will be stepping away from football.
'At this time to fight a new opponent: Cancer. I'm grateful for the support and thankful for people who have stood firm with me. 
There hasn't been a single step I've taken without hundreds of people lighting the path before me, and I will continue to seek their guidance. 
'That being said, I'll go kick this thing's a** and get back to doing what I love! AMDG!'
MORE TO FOLLOW 


Post source: Daily mail