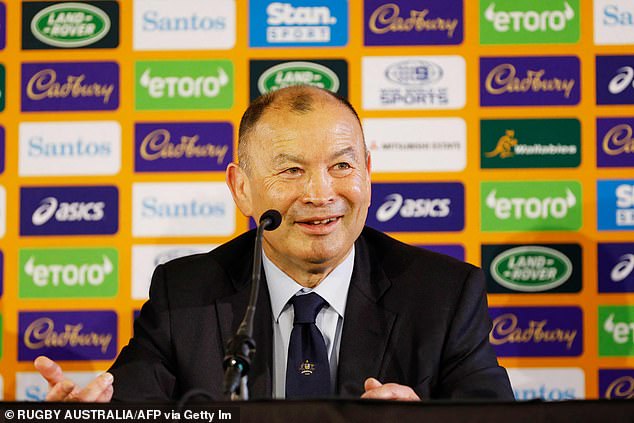 It might be his second coming as Wallabies coach but Eddie Jones insists he should not be treated as the messiah as he sets his sights on resurrecting a golden era for rugby union in Australia.
If they can take down New Zealand along the way, then so much the better.
Back at his old stomping ground of Sydney's Matraville Sports High School in Sydney on Tuesday, Jones was in bullish form as he faced local media for the first time since starting his five-year contract on Monday.
Jones fronts the media for the first time since being re-installed Wallabies coach for the first time since 2005, replacing David Rennie
The Wallabies have slumped to sixth in the world, only just ahead of Scotland and Argentina with the World Cup just eight months away
Jones appeared to take a swat at previous coach Rennie by saying the Wallabies are world class players that just need the right coaching
It completed the homecoming for Jones, who has not coached the Wallabies in 18 years, returning to the place where it all began and he fell in love with the sport along with the Ella brothers Gary, Glen and Mark.
Jones arrived back in Sydney on Sunday and took time to meet fans and tour the facilities at Moore Park and Allianz Stadium while the Sydney Sevens were being played.
He was then given a hero's welcome by Rugby Australia on his 63rd birthday on Monday where he was presented with a personalised cake and the key to his sponsors vehicle.
So it was only fitting that Jones held his first media scrum in his return to the coaching role was held at the school that inspired him to play and coach the sport to begin with.
Jones will have his hands full with a Wallabies outfit that has been disappointing for a long period of time and just eight months to whip them into shape
Jones went to Matraville Sports High School when he was young and took the time to meet the current crop of students that could be potential internationals in the future
Jones said the five year contract he has signed – which are punctuated by a 2025 Lions tour and a Rugby World Cup on home soil in 2027 – will be critical in reshaping the standing of the 15-a-side game in Australia.
'I'm not the messiah,' Jones warned. 'We're all in this together – sometimes you need somebody to beat the drum to make you walk a bit faster.'
For all his bold statements on Tuesday, the serious part of Jones' tenure is the fact he has just five Tests to prepare a side with a 5-9 record in 2022 for this year's World Cup in France.
Jones  poses with former Wallabies Gary Ella, Glen Ella and Mark Ella who were all students at Matraville Sports High School
They include two Tests against the All Blacks, with Jones keen on ending Australia's 21-year Bledisloe Cup drought sooner rather than later.
'That is a big target for us because we know if we can take on New Zealand we are in a good position to take the World Cup,' he said.
'It's not the be all and end all because the World Cup is the major tournament.
'They (New Zealand) are in a pretty good spot, but we're coming after them.
'We'll be chasing them down the street, we want that rivalry to be tough and we'll make sure we're chasing them.'
Rugby Australia Chairman Hamish McClennan and CEO Andy Marinos present Jones with a jersey to formally welcome him as new Wallabies coach
Jones, the Ella Brothers and Rugby Australia officials pose with students from Matraville Sports High School
Jones says any Wallabies revival starts with his support staff.
Dan McKellar and Laurie Fisher are the incumbent assistant coaches left by Dave Rennie's regime, with Jones to make a call on his backroom team in the coming weeks.
The new Wallabies coach said hires would be made based on what his players require – players he says just need the belief they can topple the world's best.
'Our players don't lack talent, if you did a world XV on talent, there would be a fair few Australian players in there,' he said.
The current students of Matraville Sports High School also presented Jones with a jersey representing their school, which he also attended
'We've got to find the right level of coaching for the players so they give a bit more.
'Roger Bannister broke the four-minute mile (when) medical history said your body would disintegrate.
'The Kenyan (Eliud Kipchoge) broke the two-hour marathon (record).
'Our players don't know how good they can be.
'I've got a role to prod them, cajole them, love them to see if we can get a bit more out of them.'
Jones issued a warning to Super Rugby players ahead of the season opener on February 24, saying their form would 'select or deselect' them.
'If they're worried or excited, it doesn't concern me,' he said.
'If they're at their best in Super Rugby then they'll be in the Wallabies.
'Then they'll be excited, because they'll go on a journey to change Australian rugby.'


Post source: Daily mail