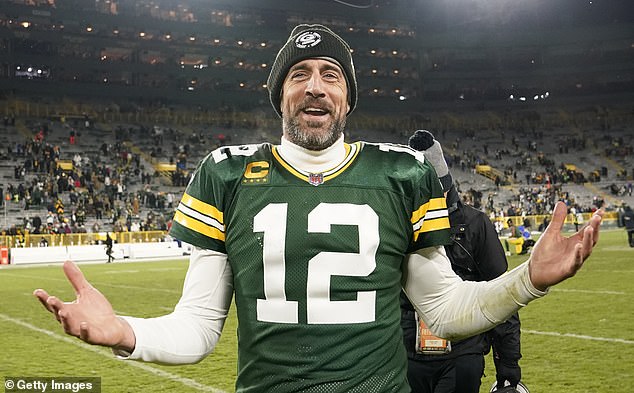 New York Jets 'ain't going to no Super Bowl' if they sign Aaron Rodgers, insists Green Bay legend LeRoy Butler – as he predicts them to win just eight games with the star quarterback!
Aaron Rodgers seems to inevitably end up with the New York Jets sooner rather than later, though that may not be a positive for the franchise according to Packers legend LeRoy Butler.
While parts of New York and New Jerseys are jubilant about Rodgers' imminent arrival, Butler attempted to pour cold water on a deep postseason run for Gang Green. 
'Y'all ain't going to no Super Bowl,' Butler said to Jets fans, via TMZ. The Hall of Fame safety even went a step further claiming the Jets will again finish below .500!
New York finished last NFL season bottom of the AFC East with a 7-9 record – after losing six successive games to close it out. 
As evidenced by a 7-3 start, there is plenty of promise at Florham Park, not that Butler necessarily agrees. 
The New York Jets are on the brink of acquiring four-time MVP Aaron Rodgers from Green Bay
Packers legendary safety LeRoy Butler expects his old team to have more wins than the Jets
Rodgers announced his intent to play for the Jets Tuesday during an extensive interview on the Pat McAfee Show, with a trade package the only aspect presently standing between Rodgers and the success starved New York franchise.
'I was on a team that went to two Super Bowls — your team gotta be close,' Butler said. 
'I don't know if Aaron Rodgers is going to be there the whole offseason to gel with the top Rookie of the Year wide receiver [Garrett Wilson]
'I don't know if he's going to be there to go to the clubs with Breece Hall. I don't know.
'If he's willing to put in that work, you never know. But come on, Jets… the toughest [conference] is the AFC; Joe Burrow, Patrick Mahomes, Josh Allen – these guys ain't going nowhere. They not just gonna lay down. 
'They probably gonna win seven, eight games. Eight games.' Though he has a brighter prediction for Jordan Love and his former team.  
'Now, the Packers we gon' nine or 10 because we're all on board. Thank you Jets, shout out to Robert Saleh. Woody [Johnson] thank you!' 
During his 12-year NFL career – all with the Packers – Butler was a 4x First-team All-Pro, he is a member of the NFL 1990s All-Decade team, as well as the Green Bay and Pro Football Hall of Fame. 
The Jets struggled to overcome poor quarterback play by Zach Wilson (L) in the 2022 season 


Post source: Daily mail