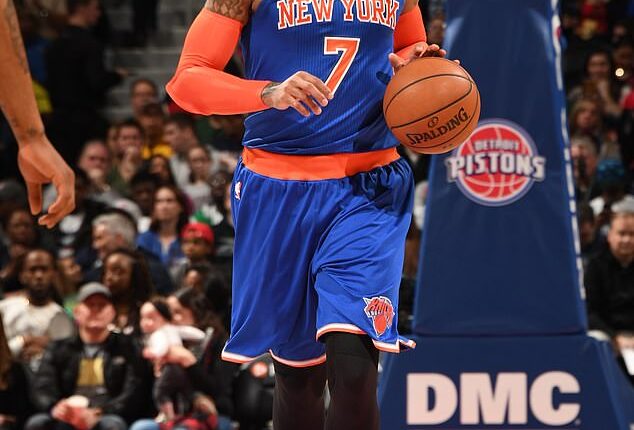 Carmelo Anthony, the star forward who led Syracuse to its first and only NCAA title and went on to establish himself as one of the league's best shooters ever, shared his decision to call time on his 19-year NBA career on Monday.
The 38-year-old, who was not a member of any of the NBA's 30 teams this season, retires as the league's ninth all-time leading scorer. He finishes behind LeBron James, Kareem Abdul-Jabbar, Karl Malone, Kobe Bryant, Michael Jordan, Dirk Nowitzki, Wilt Chamberlain and Shaquille O'Neal on that list with 28,289 career points.
It's fair to say that Anthony has left his mark on the league, ending his playing days a year after being selected as one of the 75 greatest players in NBA history. He's also a 10-time All-Star, the league's scoring champion in 2013 and a two-time recipient of the USA Basketball Male Athlete of the Year award (2006, 2016).
One accomplishment that 'Melo' was never able to make: playing in the NBA Finals. Anthony only played in the conference finals once with the Denver Nuggets, as they lost to the eventual NBA Champions that year — the Los Angeles Lakers — in 2009. 
But Melo's no stranger to winning, himself, having led Syracuse to the NCAA national championship in 2003. That same year, the six-time All-NBA selectee was voted as the Most Outstanding Player of the tournament's Final Four. 
Knicks legend Carmelo Anthony retired on Monday as the No. 9 top scorer in league history 
'Melo' (L) is close friends with LeBron James, Chris Paul and Dwayne Wade. Pictured in 2022
Anthony, 38, was married to TV personality and actress Alani 'La La' Vazquez for 11 years
Anthony's also helped USA Basketball on a global scale, featuring on teams that've won gold at Beijing in 2008, London in 2012 and Rio de Janeiro in 2016.
Off the court, Melo was married to TV personality and actress Alani 'La La' Vazquez. They share joint-custody over their highly-rated teenage son, Kiyan, who's destined to reach the NBA one day. 
Anthony is also close friends with LeBron James, Dwyane Wade and Chris Paul, with all four players coming into the league the same year in 2003. 
And off the court, Melo is known for his charity work and business ventures. 
Here, DailyMail.com takes a look at one of the NBA's all-time greats.
Melo will always be remembered as the one who led Syracuse to its only national title in 2003
Melo's humble beginnings 
Born into a housing project in Red Hook, Brooklyn to an African-American mother and a Puerto Rican father in 1984, Melo moved to Baltimore when he was eight, six years after his dad died of cancer.
In 2001, when he first started getting noticed for his basketball talent, it was widely believed that Melo was distracted by all of the attention from the media to the point where he would be suspended on several occasions for skipping classes at Towson Catholic High School.
Despite a successful junior year, when he averaged 23 points and 10.3 rebounds, many college scouts felt that Anthony wasn't destined for the NBA due to his skinny frame, lack of strength and poor academic performances. After announcing that he would attend Syracuse University before his senior year, Melo knew he had to get his grades up and that meant potentially transferring high schools.
Mary, Anthony's mother, decided to enroll her son at basketball powerhouse Oak Hill Academy after talking to Steve Smith, the school's head coach. At Oak Hill, Melo put up 25.2 points per game at the Adidas Big Time Tournament in Las Vegas, Nevada, where he attracted many NBA scouts.
Oak Hill Academy started the 2001–02 campaign boasting a 42-game winning streak. At the Nike Academy National Invitational, where they knocked off then-No. 1 Westchester High School 77–61 in the final, Melo and his teammates matched up with high school phenom LeBron James in an anticipated game against St. Vincent – St. Mary High School of Akron, Ohio. James scored 36 points, while Anthony scored 34 points and grabbed 11 rebounds to lead Oak Hill to a 72–66 win.
The team ended the season as the No. 3 seed in the country with a 32–1 record. In his senior year, Melo averaged 21.7 points, 8.1 rebounds and 4.0 assists at Oak Hill. He was named a USA Today All-USA First Team and a Parade First-Team All-American. Anthony was selected to play in the Jordan Brand Classic, scoring a game-high 27 points, and the 2002 McDonald's All-American Game.
Anthony was often associated with LeBron James in his career, as both were drafted in 2003
James and Anthony were once tipped as the NBA's hottest young stars in the early 2000's 
Melo's net worth
Anthony played for a total of six NBA teams from 2003 to 2022, enjoying his prime years on the Denver Nuggets and New York Knicks before going on to play for the Oklahoma City Thunder, Houston Rockets and Portland Trailblazers. He played his final NBA season with close friend LeBron James on the Los Angeles Lakers. 
Melo was a free agent for the entirety of the 2022-23 season, struggling to land a spot on an NBA team. In a clip announcing his retirement, Melo said he's looking forward to watching his 16-year-old son, Kiyan, follow into his steps as a professional basketball player. 
Kiyan is a highly rated high school shooting guard, who's said to already attract interest from several top US universities and colleges with the best basketball programs in the country.
Anthony is believed to have a net worth of $160million dollars. He's earned more than $262 million in salary alone during his 19 years spent in the league and has contracts with several big brands, including Nike and one of its subsidiaries, Jumpman; 1800 Tequila and viin7esate (wine). 
Anthony signed his first shoe deal with Jordan brand in 2003, earning $3.5M per year for six years. In 2004, his first signature shoe, the Jordan Carmelo 1.5 was released. As of 2018, 14 shoes have been released in the Melo line. 
In 2015, Melo, who's an Arsenal fan, founded a NASL expansion club, Puerto Rico FC, in his father's homeland. Four years later in 2021, he launched a production company called Creative 7, which got its name from his Knicks jersey number (7), which Melo wore from 2011 to 2017.
Anthony earned more than $262 million in player salary alone in his 19 years spent in the NBA
Melo is a fan of Arsenal, visiting the North London club and meeting players in September 2015
Melo's noticeable charity work
Despite boosting an impressive nine-figure net worth net worth, Melo's also known in the world of sports for his charity work. He won the NBA's Social Justice Champion Award in 2021 and spoke at the Time 100 Summit, which celebrated the magazine's centennial year, in April. Other keynote speakers at the event included Apple CEO Tim Cook, retired NBA future Hall of Famer Dwyane Wade, U.S. Special Presidential Envoy for Climate John Kerry and Bill Gates. 
During his time in Denver, Melo held a Christmas party for less well-off children and also hosted a 3-on-3 tournament known as Melo's H.O.O.D.. He's still involved with the community in Colorado's capital, helping fund the relaunch of a local community center for local youth. 
Anthony also opened up a youth development center named after him in Baltimore in 2006. He contributed $1.5M to the Living Classrooms Foundation, a non-profit organization that provides education, job training and community service programs for over 35,000 children, youth and young adults in the east Baltimore area. 
The 2004 NBA All-Rookie First Team selectee further donated $35,000 to relief efforts after a tsunami caused the 2004 Indian Ocean Earthquake. He also donated $1,000 per point scored in back-to-back games for Denver against the San Antonio Spurs and the Houston Rockets in January, 2005. 
A year later, in 2006, Anthony presented a $3M donation for the construction of a newly planned basketball practice facility at Syracuse – his alma matter. The practice facility is now called Carmelo K. Anthony Basketball Center. It's believed that the NBA great totaled $4.28M in charitable contribution.
What's more is that Melo was once ranked at No. 8 in 'The Giving Back 30 List of Largest Charitable Donations by Celebrities in 2006.' 
Anthony speaks onstage at the 2023 TIME100 Summit at Lincoln Center in April in New YorK
Melo donated $4.28M to Syracuse. The school named its basketball practice facility after him
Melo's life off-court 
Outside of basketball, Melo's personal life has been nothing but in the limelight for several reasons, including his marriage to TV personality and actress Alani 'La La' Vazquez.
The McDonald's All-American holds close ties with Lebron James, Chris Paul, and Dwayne Wade. The quartet are referred to as the 'banana boat crew' and have been friends since their teenage years, even going on vacation together with their respective families. 
Anthony was once rescued by James during an excursion to the Bahamas, where he had been carried away from a boat by the current. During an Instagram Live session, Melo later recalled, 'he saved my life,' when speaking about the danger he was in prior to being rescued. 
In 2004, Anthony announced his engagement to La La and three years later, Kiyan Carmelo Anthony was born on March 7, 2007. Both born and raised in Brooklyn, Melo and La La decided to tie the knot before 320 guests at a lavish wedding ceremony at Cipriani's in New York City on July 27, 2010. 
The wedding was also part of La La's reality TV show and was filmed by VH1 as part of La La's Full Court Wedding. In 2020, Melo sold his New York property for $12.85M. He is now said to be living in Portland, Oregon. 
Following the end of the 2016-17 season, reports emerged of La La having moved out of the couple's apartment and that the two were living separately. The pair eventually reconciled in December 2018 before LaLa officially filed for divorce in June 2021.  
Melo and La La tied the knot in front of 320 guests at Cipriani's in New York City in July 2010
Anthony and La La divorced in 2021 but share joint-custody over their son, Kiyan Carmelo
Alani 'La La' Vazquez is a popular TV personality and actress who's featured on MTV and VH1
 Melo's path to the Naismith Hall of Fame
Anthony was selected as the No. 3 overall pick of the 2003 NBA Draft by the Denver Nuggets, emerging as a top prospect of a star-studded class that included James at No. 1, Hall of Famer Chris Bosh at No. 4, and future Hall of Famer Dwyane Wade — he gets officially enshrined this summer – at No. 5.
It won't be long until Melo finally joins his closest NBA friends into the Naismith Basketball Hall of Fame. He averaged 22.5 points in 19 seasons, with most of his scoring highs coming from his eight and six years in Denver and New York City, respectively. 
Anthony has long reminisced about his time playing home games for the Knicks at Madison Square Garden, also known as 'The Mecca' of basketball, and what it meant to him as a native Brooklynite. 
Melo is often known for being one of the premier clutch performers in the league. During the 2005-06 season, he made five game-winning shots in the remaining five seconds of the fourth quarter or overtime.
Anthony also shares the NBA record for second most points scored in one quarter with 33, and holds the Knicks' single-game franchise scoring record with 62.


Post source: Daily mail